The Qinghai-Tibet railway, opened this month to great fanfare, is developing surface cracks in its concrete structures while its permafrost foundation is sinking and cracking at some sections.
"The frozen ground that forms the foundation of the railway is sinking and cracking in some sections, making the railway unstable in some places," the Beijing News quoted railway ministry spokesman Wang Yongping as saying.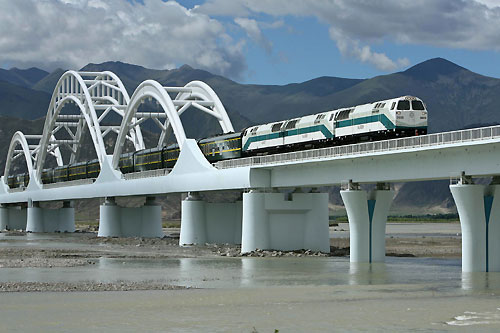 The first train from Lhasa Railway Station in Lhasa, Tibet, travels along a bridge heading for Lanzhou in Gansu province July 1, 2006. [Reuters]

"The concrete is cracking on some of the railway structures and bridges, forming a hidden danger to the railway line quality."

Wang said experts are working on these problems and relevant authorities have taken measures to ensure the safety of the rail and passengers, without specifying these measures.

The railway to Lhasa, capital of Tibet Autonomous Region, was opened on July 1. It is dubbed a magnificent engineering feat and a miracle for the world.

The US$4.2-billion railway which runs 1,142-kilometers (713 miles) from the desert outpost of Golmud in Qinghai province to Lhasa is the highest in the world.

It climbs a peak of 5,072 meters (16,737 feet) above sea level along the Tibetan plateau, with the railway using supposedly state-of-the-art cooling techniques to ensure the permafrost foundation remains frozen.

Wang added that shifting sands in the region were also causing greater harm to the railway than expected, while engineers had still not figured out how to keep herds of yaks off the tracks, the report said.

"These form dangers to passengers on the train," he said.

Climatologists monitoring global warming last year said that rising temperatures could lead to the melting of the permafrost foundation of the railway, but said nothing about the frozen ground sinking or cracking.

Railway spokesman Wang did not say how engineers would address the problems.

The rail line is seen as an important tool in modernizing and developing Tibet.

Previously Tibet could only be reached on slow, uncomfortable bus rides or on relatively expensive flights. On the new train, people can travel for 48 hours from Beijing to Lhasa for under US$50.