A special team was preparing to leave China last night on a mission to Lebanon that will bring home the remains of a military officer who was killed in an Israeli air raid on a UN observation post.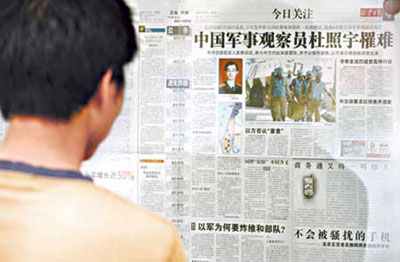 A man reads a newspaper in Beijing reporting the death of Chinese UN observer Du Zhaoyu, who was killed by the Israeli bombing of a UN post in south Lebanon. [AFP]

Li Lingling, the wife of the victim, Du Zhaoyu, will accompany the group.
The team is made up of six representatives of China's Foreign Ministry and the Peacekeeping Affairs Office of the Ministry of National Defense.
The 34-year-old Du was a lieutenant colonel in the People's Liberation Army. He was sent to Lebanon last December as a UN observer.
President Hu Jintao on Wednesday expressed his "deep condolences" over Du's death, and demanded that government authorities take every measure necessary to ensure the safety of Chinese nationals in Lebanon.
Defense Minister Cao Gangchuan urged government departments to intensify negotiations with the United Nations, Israel and the Islamic militant group Hezbollah. He also called for efforts to prevent similar accidents from occurring.
The air raid killed four UN observers. The others were from Finland, Austria and Canada.
Foreign Minister Li Zhaoxing said on Wednesday he was deeply saddened by the deaths of the UN personnel.
Describing Du and his colleagues as "outstanding sons of their countries," Li said their blood should not be shed in vain, nor should people in the Middle East shed more blood.
In Du's hometown, Jinan, capital of east China's Shandong Province, his family, friends and teachers grieved over his death.
Yin Binglai, a friend of Du's father, said Du was polite to others and set a good example for neighborhood children.
"Du was not only the pride of his parents but also the pride of the whole neighborhood," said Wang Xiaoyun, a colleague of Du's father.
Yin Ning, Du's high school mate, said, "Du was a sincere friend and was always helpful to others."
Said Zhou Qing'an, an international affairs expert, "Perhaps Du's death will not change the conflict. However, it could demonstrate China's sincerity in seeking peace, its determination to fulfill international responsibility and its courage to bear the costs."
Some 180 Chinese staff officers, engineers and observers are working in Lebanon as part of the UN peacekeeping mission.