Kaemi death roll rises to 25
(Xinhua)
Updated: 2006-07-27 19:03
The death toll from Typhoon Kaemi has risen to 25 in South China, with at least 53 still missing, according to local flood control sources on Thursday afternoon.
Floods and landslides have left 17 residents dead and 15 others missing in Jiangxi, according to latest statistics from the provincial flood and drought control headquarters.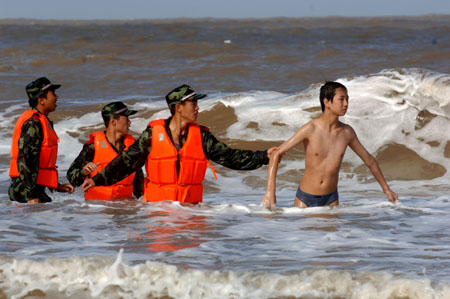 Chinese s oldiers evacuate a tourist from a beach in Wenzhou, east China's Zhejiang Province, July 25, 2006. [Xinhua]
The deaths include nine in Shangyou, four in Suichuan, three in Nankang and one in Longnan across the province, according to the headquarters.
Meanwhile, six have been confirmed dead and 38 still missing after a military barracks were swept away in the province, military sources said on Thursday morning.
Chinese President Hu Jintao called for "prompt and all out efforts" to find those missing from the barracks.
Television footage showed rivers in Jiangxi overflowing their banks and sweeping through valleys and lowlands.
South China's Guangdong Province also reported two deaths, according to the office of the National Natural Disaster Reduction Committee.
Typhoon Kaemi, which made landfall at 3:50 p.m. Tuesday in Jinjiang City of East China's Fujian Province has weakened into a depression, has lashed central and southern parts of neighboring Jiangxi Province with rainstorms since Tuesday afternoon. Maximum rainfall has reached 295 millimeters by 2 p.m. Thursday.