A Chinese team is to set off late Thursday for Lebanon to handle the case of a Chinese UN observer's death there, according to diplomatic sources.
The Chinese victim Du Zhaoyu was killed in an Israeli air raid on a UN post in south Lebanon on Wednesday.
The team, consisting of six personnel from the Chinese Foreign Ministry and the Peacekeeping Affairs Office of the Ministry of National Defense, is to deal with the aftermath and escort Du's remains back home.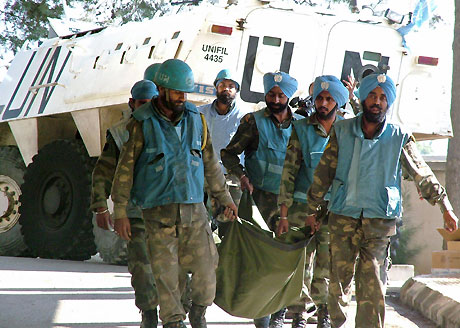 United Nations soldiers from India carry the body of a UN observer, who was killed during Israeli air strikes on Khiam village, to a hospital in Marjaoun village in south Lebanon July 26, 2006. [Reuters]
Du's wife Li Lingling will also go to Lebanon along with the team.
Du, a Lieutenant Colonel of the Chinese People's Liberation Army (PLA) with a postgraduate degree, was born in Jinan, capital of east China's Shandong Province. He was sent to Lebanon last December as a UN observer.
After Du's death, the Peacekeeping Affairs Office of the Ministry of National Defense has made several representations to the Israeli side in different ways, and required the Israeli side to properly handle the aftermath and well protect Du's remains.
Chinese President Hu Jintao on Wednesday expressed his "deep condolences" over Du's death, and demanded the Chinese departments concerned to properly deal with the aftermath of the incident and take every measure necessary to ensure the safety of Chinese nationals in Lebanon.
Chinese Defense Minister Cao Gangchuan has urged relevant departments to intensify negotiations with the UN and the conflicting parties of Lebanon and Israel. He also called for efforts to prevent similar accidents from happening again.
Liang Guanglie, chief of the PLA general staff, sent a letter of condolences to Du's family and has made specific requirements for the aftermath. Both Cao and Liang expressed their deep condolences over Du's death and sincere sympathy for his family.
Wednesday's air raid killed four UN observers. Besides Du, the other three were from Finland, Austria and Canada.
China urges UN council to condemn Israeli attack
China asked the UN Security Council on Wednesday to condemn the Israeli attack on a UN observer post in southern Lebanon.