Authorities warned of landslides in southern China on Thursday and were watching swollen dams and rivers after rains triggered by Typhoon Kaemi killed at least 15 people and left more than 60 missing, state media said.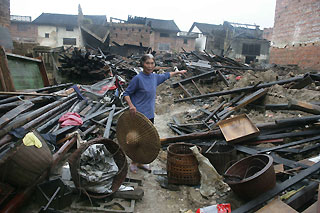 An old woman points at the wreckage left by tropical storm Kaemi yesterday at Gantang Village in Central China's Hunan Province. [newsphoto]


Kaemi weakened into a tropical depression after sweeping across China's southeastern coast on Tuesday, but downpours it brought soaked at least four provinces, all of which are still reeling from damage by tropical storm Bilis.

Six people were killed when flash floods along a mountainside hit a military barracks in the province of Jiangxi, Xinhua news agency said. About 38 troops and their families were missing, it added.

Two girls -- aged nine and six -- died in southern Guangdong province after their house collapsed under a landslide.

Both incidents occurred in the early hours of Wednesday when the victims were probably sleeping, Xinhua said.

A further seven people were killed, mostly by floods, in Jiangxi's mountainous south, Xinhua said. About 20 were missing and roads and communications had been disrupted in some areas.

In neighbouring Hunan province, hundreds of thousands of people were relocated as streets in the city of Chenzhou, where Bilis killed almost 200 this month, were flooded and at least three were missing, Xinhua said.

In Fujian province, where Kaemi made landfall after sweeping Taiwan, a levee collapsed, threatening the lives of more than 20,000 people in six villages, it said, adding that emergency repair work was under way.

Rain was likely to continue in the provinces through Friday, China's Central Meteorological Office said on its Web site (www.nmc.gov.cn).

The Meteorological Office said Kaemi carried less rain than Bilis but caused fresh damage in areas already hit by the storm that killed 612 people and left 200 missing in southern China, mostly in the provinces of Hunan, Guangdong and Fujian.

Tropical storms and typhoons frequently strike Taiwan island, Japan, the Philippines and southern China during a season that lasts from early summer to late autumn.