Typhoon Kaemi struck the southeast coast of China, sparking the evacuation of more than 700,000 people in an area still reeling from a tropical storm that claimed over 600 lives.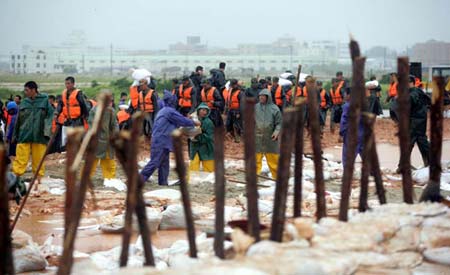 Soldiers repair the destroyed dam in Jinjiang, East China's Fujian Province July 25, 2006. Typhoon Kaemi landed in Weitou Town of Jinjiang City at 3:50 p.m. July 25.[Xinhua]
The typhoon -- which first passed over Taiwan, causing widespread disruption to daily life but not enormous damage -- struck mainland's Fujian province at 3:50 pm (0750 GMT), the Xinhua news agency said.
State television showed footage of torrential rains lashing Fuzhou, a major city in Fujian, as workers struggled to fasten power cables and make other preparations for the onslaught of the typhoon.
With the storm packing winds of up to 120 kilometers (74 miles) per hour as it approached, more than 643,000 people were evacuated from Fujian, Xinhua said, while another 80,000 were moved from their homes in neighboring Zhejiang province.
A total of 435,000 people were evacuated in Fujian, including those working in fish farms on the sea, other fishermen and residents in low-lying areas, Xinhua news agency said.
About 44,000 fishing boats were ordered to return to harbor by Tuesday, while flights from Xiamen city have been postponed or cancelled.
Around 3,000 armed police equipped with speedboats were also deployed to conduct rescue and relief operations if necessary, Xinhua said.
Local authorities were advised to monitor the safety of people living in makeshift shelters at coal mines and in mountainous areas and to boost patrols along reservoirs and dams in preparation for flooding.
So far, Fujian province has prepared 12,000 tents, 50,000 quilts, 80,000 items of clothing and a five-day supply of food for 300,000 people, Xinhua said.
Fujian was still trying to cope with the impact of Bilis, which struck mainland China on July 14, killing at least 43 people in the province.
Zhejiang, which did not suffer too badly from Bilis, was preparing for a much tougher time with Kaemi, Xinhua said.
Neighboring Guangdong province to the south, where 106 people were killed in Bilis, was also making preparations for strong winds and heavy rain, even though it was not expected to be directly hit by Kaemi.
Kaemi, which means "ant" in Korean, pounded Taiwan with strong winds and heavy rain after making landfall there late Monday, leaving four people slightly injured when the bus they were in was hit by falling rocks.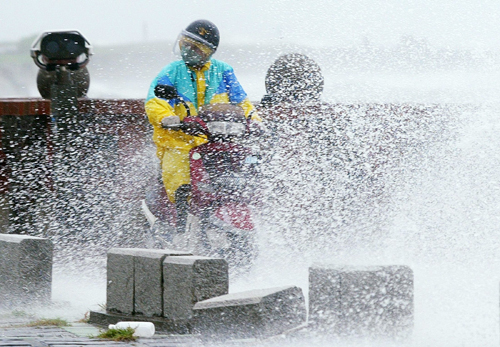 A man rides as waves pound on southern port city of Kaohsiung in Taiwan during strong winds from typhoon Kaemi July 25, 2006. [Reuters]
The typhoon also forced the cancellation of flights in Taiwan, disrupted road traffic, knocked out power for thousands of residents and forced some offices to close.
Bilis killed at least 612 people in southern, eastern and central China, with 208 still missing, according to the latest figures released by the government Monday.
China's east coast is regularly hit by storms and typhoons in the summer, but the number of fatalities, missing people and economic losses are "much greater" this year than in 2005, officials said over the weekend.
The UN's panel on climate change has long held that rising temperatures would result in more severe rain storms in south and central China and drought in the north.
In a separate development during a brutal period of weather for north Asia, the International Red Cross said at least 121 people had been killed and another 127 missing in North Korea following heavy storms in mid-July.
Nearly 17,000 families had been left homeless in five North Korean provinces with rain totally or partially destroying 23,400 houses, the Red Cross said.