Typhoon Kaemi has struck the southeast coast of China, sparking the evacuation of over 500,000 people in an area still reeling from a tropical storm that claimed over 600 lives.
The typhoon -- which first passed over Taiwan, causing widespread disruption to daily life but not enormous damage -- struck mainland China's Fujian province at 3:50 pm (0750 GMT) on Tuesday, the official Xinhua news agency said.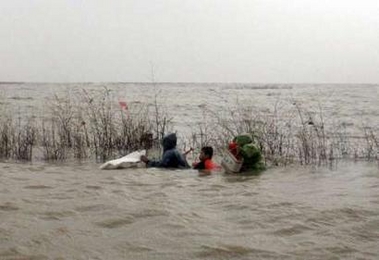 Fishermen collect clams to save them from being washed away from the rising sea water caused by Typhoon Kaemi at a fishing pond place in Fuzhou, east China's Fujian province July 25, 2006. Typhoon Kaemi slammed into China on Tuesday, leading to the evacuation of hundreds of thousands, after triggering floods and cutting off power in parts of Taiwan. [Reuters]
With the storm packing winds of up to 120 kilometers (74 miles) per hour as it approached, more than 430,000 people were evacuated from Fujian, while another 80,000 were moved from their homes in neighboring Zhejiang province.
Kaemi, which means "ant" in Korean, pounded Taiwan with strong winds and heavy rain after making landfall there late Monday, leaving four people slightly injured when the bus they were in was hit by falling rocks.
The typhoon also forced the cancellation of flights in Taiwan, disrupted road traffic, knocked out power for thousands of residents and forced some offices to close.
Kaemi had earlier brushed past the Philippines, causing heavy rain there, with schools closed and more than 2,600 people evacuated in and around the capital of Manila on Tuesday due to heavy flooding.
A total of 435,000 people were evacuated in Fujian, including those working in fish farms on the sea, other fishermen and residents in low-lying areas, Xinhua news agency said.
About 44,000 fishing boats were ordered to return to harbor by Tuesday, while flights from Xiamen city have been postponed or cancelled.
Around 3,000 armed police equipped with speedboats were also deployed to conduct rescue and relief operations if necessary, Xinhua said.
Local authorities were advised to monitor the safety of people living in makeshift shelters at coal mines and in mountainous areas and to boost patrols along reservoirs and dams in preparation for flooding.