435,000 evacuated as Kaemi nears SE China
(Xinhua)
Updated: 2006-07-25 13:40
By 10 a.m. Tuesday, southeast China's Fujian Province had evacuated more than 435,000 people to safe places before Typhoon Kaemi comes.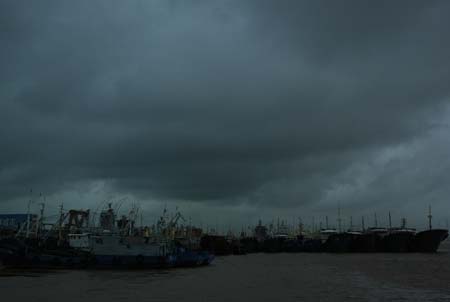 Rain clouds gather over Haimen Port before the coming of typhoon Kaemi in Taizhou city, East China's Zhejiang Province, July 25,2006. [Xinhua]
More than 44,000 shipping vessels had been called back to harbor as of 9 a.m. Tuesday, according to the provincial fishery department.
Kaemi, the fifth typhoon of the year, was predicted to land on Fujian between Xiamen and Fuqing at noon or at dusk Tuesday after raking Taiwan with heavy rains and strong winds.
As of 10 a.m. Tuesday, the eye of Kaemi, was located at 135 km southeast of Xiamen and was moving northwestward at around 20 km per hour, according to the provincial observatory.
Heavy rain and winds with a speed of 117 km per hour are sweeping across the coastal province and the provincial flood control and drought relief office has sent a dozen of task forces to mountainous counties to organize anti-typhoon work.
Three thousand armed police have been stationed in Fujian, ready to launch rescue and relief operations when the typhoon comes.
Kaemi was estimated to linger in Fujian for about 24 hours before it enters the neighboring province of Jiangxi on Wednesday afternoon or night, said a local meteorologist.
China had been frequently stricken by typhoons since June this year, causing heavy casualties and huge economic losses. The bypast Typhoon Bilis alone has so far claimed more than 600 lives in Fujian, Jiangxi, Hunan and Guangdong provinces and the Guangxi Zhuang Autonomous Region.