The Second Intermediate People's Court Of Beijing sentenced a gang of robbers and murderers in one of the cruelest cases in recent years on July 7. Four of the five criminals were sentenced to death, another with seven-year jail term.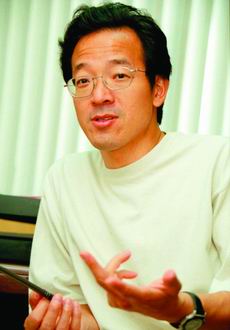 Yu Minhong, principal of the Beijing New Oriental School. [Beijing Times]

Yu Minhong, principal of the Beijing New Oriental School who has been dubbed the Chinese overseas studies godfather, was among the gang's victims, who robbed him of 2 million yuan eight years ago, the Beijing Times reported Monday.

Beijing local Zhang Bei, the 38-year-old gang leader served a one-year-term labor education i in 1993 for buying and storing guns illegally, where he met Qu Yuntong from Heilongjiang Province, and got to know Wang Libin and two others through Qu. The five then committed several robberies, murders and kidnappings.

In July 1994 Zhang and Qu pretended to be seriously injured after purposely knocking into Zhang's car while riding a bicycle, and injected him with a narcotic when Zhang drove them home. They sold the car for 200,000 yuan. Zhang's body has not yet been found.

In another incident the two men injected a man named Zhu with Novocain after meeting with him in what he thought was a business arrangement. They forced him to give his bank account password on Feb 19, 2004. They withdrew about 180,000 yuan from Zhu's account and killed him. In September of the same year, the gang did the same thing to a man surnamed Wang.

Niu, who had cooperated with Zhang in running the school, earned 1.5 million yuan annually. Qu and another two men kidnapped Niu and held him for 1.5 million yuan in ransom from his family on Aug 25, 2004.

Qu and his conspirators also killed and dismembered a man named Lu.

The police focused on Zhang as he knew that Niu made a fortune, and also because the kidnappers asked for the same amount Niu had made, 1.5 million yuan. Police consequently solved the case.

After Zhang and his companions were arrested, he confessed he had stolen from the Beijing New Oriental School principal twice. Yu is the only survivor among their victims.

Yu founded the Beijing New Oriental School in 1993, which has trained more than 150,000 students every year for their English tests so they can apply to foreign universities and colleges. About 70 per cent of overseas Chinese students have studied English in the school.

Yu and Zhang got to know each other when running schools together. Yu rented a campus from Zhang to hold a tutoring class.

On the evening of Aug 21, 1998, Zhang and Qu overpowered Yu in the stairwell of Yu's apartment building, and injected the man with an anesthetic. The two robbers opened the door of Yu's home with his keys, and stole more than 2 million yuan from Yu's apartment.

Zhang told the police after he was arrested that Qu would have killed Yu after obtaining the money if he hadn't stopped him.

When Yu was rescued, doctors told him he was lucky to be alive. The heavy drug he had been injected with was meant as a tranquilizer for large zoo animals.

In the summer of the next year Qu and another two robbers planned to steal from Yu a second time. The three of them accosted Yu and his driver.

Qu pointed a gun at Yu and ordered him to freeze. Yu tried to calm down and found the gun wasn't reflecting the lights from upstairs. He reached out his hand and seized the gun, which was just a plastic toy.

Qu then grabbed his laptop and ran away. Fortunately, only the driver was hurt on the wrist by a knife during the fight.

A spokesman for the Beijing New Oriental School told the Beijing Times last Sunday on the phone that these thing had happened far in the past, and Yu no longer wanted to speak about it.