Ten more people were confirmed dead from the rainstorms and flooding triggered by the killer tropical storm Bilis in South China's Guangxi Zhuang Autonomous Region on Tuesday, bringing the death toll in China to 198.
The death toll in Guangxi rose to 19 from Monday's nine while eight people were still missing, according to local officials on Tuesday at a conference on disaster relief.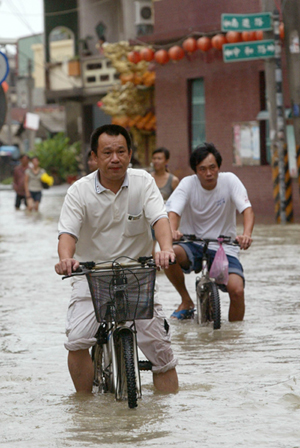 Residents ride their bicycles along a street flooded by rainfall caused by typhoon Bilis in southern Pingtung county July 15, 2006. [Reuters]

In Guangxi 4.495 million people were affected and the economic losses stood at about 890 million yuan (US$111.25 million), the officials said.

A total of 557 reservoirs in Guangxi were forced to discharge floodwater as torrential rains continued Monday, 333 more than that over the previous day.

Hunan Province is the worst-hit province as 92 people have been confirmed dead and more than 100 are missing. Floods and rainstorms set off by Bilis that landed in China on Friday also claimed 43 lives in Fujian Province and 44 in Guangdong.

Traffic resumed on the flood-ravaged trunk railway linking Beijing and Guangzhou by midday Tuesday after the efforts of more than 5,000 workers to fix damage over the past three days, the Guangzhou Railway Group said.

By 5:30 a.m., railway workers had repaired most damaged sections along the railway and Tuesday morning's trial run of a locomotive from Lechang to Shaoguan, two worst ravaged points, proved successful.

Floods and rainstorms had disrupted part of the north-to-south artery and thousands of passengers were stranded along the route in the past three days.

Tropical storm Bilis triggered heavy rainfall and serious floods in Zhejiang, Fujian, Jiangxi, Hunan, Guangdong and Guangxi from July 14. More than 1.7 million residents had been evacuated by 9:30 p.m. Sunday, according to the Ministry of Civil Affairs on Monday.

There were no reports of casualties in Zhejiang and Jiangxi.

Chinese Vice Premier Hui Liangyu urged authorities and governments in disaster-hit areas to take effective relief measures.

The Ministry of Finance approved 65 million yuan (US$8.125 million) to fund disaster relief efforts in Hunan, Guangdong, Fujian and Jiangxi provinces.

The Ministry of Civil Affairs has successively activated grade-4 and grade-3 of an emergency response mechanism, to provide relief to the disaster zones.

In line with the mechanism, two vice-ministers of civil affairs, Li Liguo and Dou Yupei, have led joint work groups representing the Ministry of Civil Affairs, Ministry of Finance and several other departments to Hunan and Fujian respectively to aid and guide relief efforts.

Bilis claimed at least 14 people in Luzon region of the Philippines before landing in China, according to Philippine disaster officials.