8,800 passengers evacuated from flooded railway line
(Xinhua)
Updated: 2006-07-18 14:39
More than 8,800 passengers have been evacuated after they were stranded along the flooded Beijing-Guangzhou railway line for about 40 hours.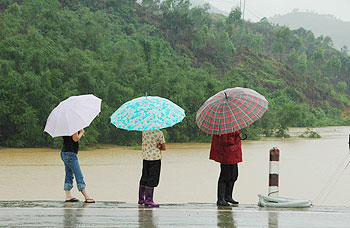 Villagers stand by the flowing Beijiang River in Qingyuan, south China's Guangdong Province, July 17, 2006. Heavy rainfall caused by tropical storm Bilis hit the upper reaches of the river earlier. The ensuing floods submerged farms and houses along the river in Qingyuan. [Xinhua]
Rainstorms and floods in the aftermath of the severe tropical storm Bilis cut off the Meicun-Pingshi railway section in southern China's Guangdong Province on Saturday night, stranding passengers on five trains in the capital city of Guangzhou.
The water level had risen to over a meter above the train tracks, rescuers said.
Food and water have been provided for the passengers and more than 10,000 workers have been mobilized to repair the track.
Four of the stranded trains and an additional one had managed to depart from the flood-hit area by Monday afternoon.
The flooding has also affected some 100 trains in Hubei Province, with four trains suspended. Local railway departments have been working hard to evacuate passengers and repair tracks.