Tibet trains full in first two weeks
(Shanghai Daily)
Updated: 2006-07-18 11:51
The Qinghai-Tibet railway has carried 7,241 people from Xining, capital of Qinghai Province, to Lhasa, in its first two weeks of operation, a local railway official said yesterday.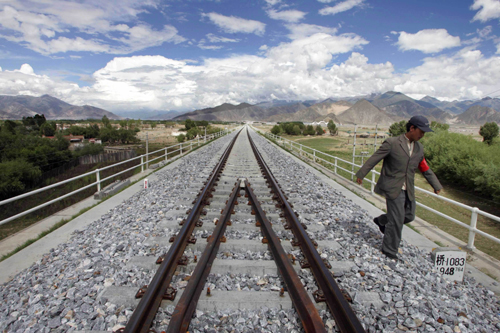 A Tibetan railway guard walks along the Qinghai-Tibet Railway in Lhasa, Tibet, June 29, 2006. The Qinghai-Tibet Railway will begin trial operations on July 1. [Reuters]
All trains from Xining to the capital of China's Tibet Autonomous Region were full since July 1, said Gu Yanmei, deputy director of the Xining Railway Station.
"All services to Tibet have been operating smoothly as of July 15," she said.
The Qinghai-Tibet Railway stretches 1,956 kilometers from Xining to Lhasa. About 960 kilometers is located 4,000 meters above sea level. The highest point is 5,072 meters.
Three passenger trains travel to Tibet from Beijing, Chengdu (or Chongqing) and Xining (or Lanzhou) everyday.
Before opening the railway, flights from Beijing, Chengdu and several other Chinese cities carried hundreds of people to Lhasa everyday. However, the train has proved extremely popular due to its convenience, cost and the scenery en route.