107 Chinese evacuate from Lebanon
By Xin Dingding (China Daily)
Updated: 2006-07-18 06:50
By 6pm Beijing time yesterday at least 107 Chinese citizens had been evacuated from Lebanon to neighbouring Syria with the help of the Chinese Embassy in Lebanon.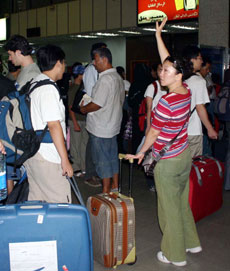 Some staff of the Chinese embassy in Lebanon wait for their plane home in Damascus, Syria July 18, 2006 when China evacuates its citizens from Lebanon amid escalating Israel-Lebanon conflicts. [Xinhua]

The evacuees are now scheduled to fly back to China.

An official with the embassy's commercial department, who refused to be named, said there were no reports of death or injury of Chinese citizens.

Since the Israel-Lebanon conflict broke out last week, China's embassies in the two countries and in Syria have adopted emergency response plans to help Chinese evacuate to safety.

On Saturday 51 Chinese including three tourists from Hong Kong were escorted to Syria. Most are employees of Chinese companies in Lebanon.

On Sunday, 14 Chinese citizens left Lebanon for Syria.

And 42 more left Lebanon and arrived in Syria yesterday.

"People continued to call in this morning for help. There are at least 10 more Chinese citizens in Lebanon in need of help, some of whom are tourists," said the official.

The Chinese Embassy in Syria has already contacted the country's customs and border checkpoints to facilitate the arrival and departure of the Chinese.

The embassy also covered accommodation and air travel expenses for some citizens.

The Chinese Embassy in Israel has set up a 24-hour hotline for Chinese citizens hoping to leave.

"But some Chinese students and their family members have chosen to stay," Lu Jing, a news officer with the embassy, told China Daily.

He said the embassy is ready to help them evacuate at any time.