If a journalist is covering an emergency scene, where does his or her responsibility lie, in covering the news objectively, or in trying to help?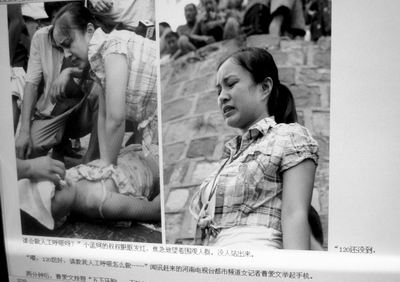 The photo shows Cao Aiwen (front) crying over the dead girl posted on www.hnby.com.cn earns her the title of "the most beautiful woman journalist of China". [www.hnby.com.cn]
Twenty-three-year-old Cao Aiwen, a journalist with Central China's Henan TV chose the latter, giving up a thrilling news headline in order to try and save a girl's life, www.hnby.com.cn reported.
"A person's life is much more important than a news story. If I was given a second chance at that scene, I wish I would have known more first aid," Cao said.
Cao was on duty July 10, 2006 when she received a phone call concerning a girl who fell into the Yellow River when playing. Cao rushed to the scene, looking for an exciting story as it is an unusual event to rescue someone from the Yellow River.
A few onlookers were lifting the girl upside down in an attempt to empty her lungs of water when Cao arrived at the scene. Cao, who knows a little first aid knowledge from her parents, who are both doctors, stopped them and dialed 120 (emergency services) for help.
Some people began to perform CPR on the girl, but no one was giving her mouth-to-mouth resuscitation. Cao, seeing this, began to give the girl mouth-to-mouth until the ambulance came ten minutes later. Unfortunately, they were unable to revive the girl, who was pronounced dead. Then Cao began to cry.
On-line forums of many websites were packed with numerous netizens' comments after Cao's story was reported. A photo of Cao crying over the dead girl's body posted on on-line forums earned comments from netizens calling her the most beautiful female journalist in China.
On the first website to report Cao's story, www.hnby.com.cn, nearly all the comments following the story were in support of Cao. According to one comment posted,"to many journalists the news story is the priority not others in danger. Cao deserves respect as she chose to rescue the dying first."
Other similar incidents have earned different comments, however.
A news photographer was shooting a few video images of people wading through rainwater in Southeast China's Xiamen during a rainstorm on May 9, 2005. He shot a sequence of a cyclist who fell off his bicycle after the front wheel got stuck in the mud and struggled out of the water.
Some netizens praised the photographer's objectivity.
Even though Cao didn't get the story she was given a 1,000-Yuan reward from her news agency and praised for her efforts upon her return.

After being bombarded with so much public comments, both positive and negative, the only comments Cao is worrying about are those that are critical of her first aid techniques.
She also suggested the spotlight should not be on her. She said that helping people in an emergency situation is a natural reaction but not a newsworthy event.
"I feel so sorry for failing to save the girl, though I tried my best. Now I am attending first aid training to review my first aid knowledge. I will certainly do better if I find myself in a similar situation in the future," Cao said.