Typhoon Bilis leaves 42 dead, 100 missing in China
(Xinhua)
Updated: 2006-07-15 20:28
The typhoon affected more than 2.4 million people and caused 1.142 billion yuan (US$142.75 million) worth of direct economic losses to two provinces in east China, when it landed there Friday.

About 1.75 million people in Zhejiang Province and 661,800 in Fujian Province were affected, the headquarters said.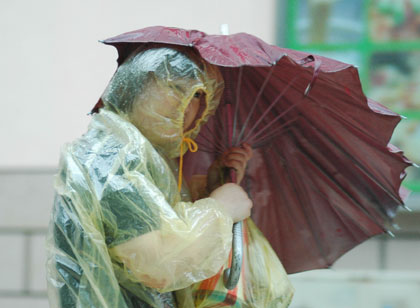 A resident manages to walk against strong winds in the rain in Taizhou, Zhejiang Province July 14, 2006. Typhoon Billis is approaching China's east coast, bringing heavy rains and strong winds. [newsphoto]

Zhejiang reported direct economic losses of 693 million yuan (US$86.6 million), and Fujian, 449 million yuan (US$56.1 million).

Some transport, power and communication facilities as well as farmlands were flooded.

Bilis landed in Fujian Province Friday noon before entering Zhejiang. Fujian Province evacuated 256,000 people, called 42,000 ships back to ports and cancelled at least 14 flights to and from Changle International Airport since Thursday night in the provincial capital, Fuzhou.

Bilis caused 140 million yuan (17.5 million dollars) worth of damage on water conservancy facilities in Fujian.

Fujian provincial meteorological observatory said there will be torrential rain in seven cities within days.

Zhejiang Province evacuated 268,000 people and called 22,500 ships back to ports.
Bilis brought strong winds and heavy rains to Zhejiang.

As of 8 p.m. Friday, 11 hydrological stations in Zhejiang reported over 200 millimeters of precipitation, with the maximum reaching 388 millimeters in Yueqing.