320,000 evacuated as Typhoon lands
(Xinhua)
Updated: 2006-07-14 15:35
FUZHOU -- Typhoon Bilis landed in eastern Fujian Province Friday noon, said sources with the Fujian Provincial Meteorological Observatory.

The typhoon landed in Xiapu County, 220 kilometers northeast to Fuzhou, capital city of Fujian.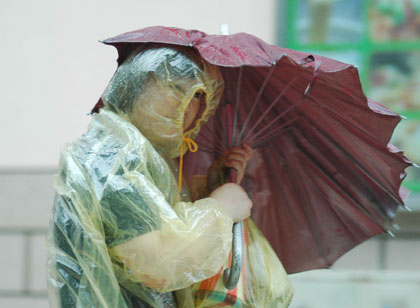 A resident manages to walk against strong winds in the rain in Taizhou, Zhejiang Province July 14, 2006. Typhoon Billis is approaching China's east coast, bringing heavy rains and strong winds. [newsphoto]

Top wind speed near the center was 30 meters per second. It is heading northwestward at a speed of 15 kilometers per hour.
Affected by typhoon Bilis, east China's Zhejiang province was hit by strong rainstorms on Friday, with the maximum precipitation reaching 239 millimeters.

As of Friday afternoon, the precipitations in 32 hydrological stations were reported above 100 millimeters, with the maximum reaching 239 millimeters in Huangyan.

Other provinces are bracing for the typhoon.

In Fujian, 256,000 people have been evacuated to safe places and 42,000 ships on the sea have been called back.

The provincial educational bureau ordered that schools should suspend classes and cancel all outdoor activities. All scenic parks have been closed.

In Zhejiang Province where Bilis brought strong winds measuring at 10 to 12 degrees on the Beaufort Scale on the sea and 8 to 10 degrees on the land, 70,000 people in dangerous places have been evacuated and 180,000 ships have been called back to shore by 6 a.m. Friday.

Torrential rain has hit Zhejiang since Thursday noon. Maximum rainfall reached 184 millimeters in Wenzhou city, southeast of the province.

The provincial government has made emergency plans to deal with possible natural disasters triggered by the typhoon.