256,000 people evacuated as typhoon approaches
(Xinhua)
Updated: 2006-07-14 12:47
FUZHOU -- East China's Fujian Province has evacuated 256,000 people on the sea to safe places on land as typhoon Bilis is approaching.

Up to now, all the 42,000 ships on the sea in Fujian have been called back and all fishermen on ships returned to land, according to the Fujian Provincial Flood Control and Drought Relief Headquarters on Friday.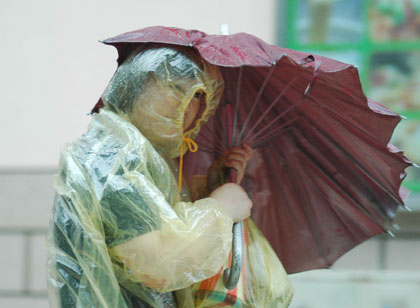 A resident manages to walk against strong winds in the rain in Taizhou, Zhejiang Province July 14, 2006. Typhoon Billis is approaching China's east coast, bringing heavy rains and strong winds. [newsphoto]


The headquarters ordered fishermen and ships on the sea to return to land as quickly as possible starting July 12.

According to the provincial meteorological station, typhoon Bilis arrived in the Taiwan Straits around 3:00 a.m. Friday and is moving northwestward at a speed of 15 km to 20 km per hour.

Bilis is forecast to land the coast between Putian City and Xiapu County in Fujian between noon and afternoon Friday, according to the provincial observatory.

The provincial observatory forecast that typhoon Bilis would bring strong winds measuring 10 to 11 degrees on the Beaufort Scale on the sea off northern Fujian Province and would bring force seven to nine gales in coastal areas in central and northern Fujian.

The observatory also forecast moderate to torrential rains in coastal and inland areas of the province in the coming three days. Local people were warned of possible mountain torrents, landslides and flooding caused by typhoon Bilis.

Influenced by Bilis-triggered strong winds and heavy rains, 14 flights were called off at the Changle International Airport based in Fuzhou, the provincial capital, since Thursday night.

Resumption of the cancelled flights will depend on weather conditions, airport sources told Xinhua.