Hong Kong: Two former top executives of Skyworth Digital Holdings were Thursday given six-year prison sentences for conspiring to steal and defraud the company.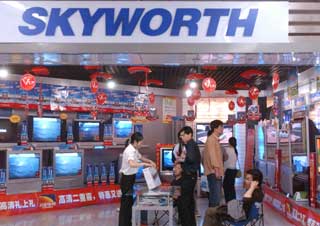 Customers visit a Skyworth TV section in an home appliance store in Zhengzhou, Henan Province in this June 22, 2004 file photo. [newsphoto]
Jailing ex-chairman Huang Hongsheng and former chief executive Huang Peisheng, Judge Stephen Geiser said their behaviour was "in breach of integrity and caused an impact to society."
He said that while he took into consideration mitigations from public and political figures, a deterrent sentence was necessary because of the seriousness of the offence.
Huang Hongsheng, also a member of the National Committee of the Chinese People's Political Consultative Conference, and his brother Huang Peisheng together owned about 40 per cent of the TV and audio-visual sets maker.
They had denied charges that they conspired to steal about HK$50 million (US$6.4 million) from the group with their mother Lo Yuk-ying and another person, Wong Pang.
They also denied defrauding Skyworth of share options worth about HK$10 million (US$1.28 million). The pair were accused of illegally giving 25 million share options to Wong, who later received 18.75 million shares at HK$0.336 each.
Wong was granted the share options as the group's consultant responsible for developing and expanding the business on the mainland, a position prosecutors said was fake.
The Huang brothers conspired with their mother to deposit HK$50 million (US$6.4 million) in Wong's account in 11 instalments from November 2000 to November 2004, Hong Kong's District Court was told.
The money was then transferred to different accounts, including some in Macao, before ultimately being transferred to Lo's or the Huang brothers' company accounts.
Skyworth restructured its management and formed an independent committee to monitor its accounts in December 2005 in an attempt to restore investor confidence, making former chairman of Shenzhen Electronics Group, Wang Dianfu, its chief executive.
The independent committee members include Henry Cheong, a listing committee member of the Hong Kong Stock Exchange, and Ip Shing-hing, a member of Hong Kong Independent Commission Against Corruption's corruption prevention advisory committee.
The company said in February that it sold 1.1 million TV sets in January, down 15 per cent from 1.29 million sets sold in the same period in 2005. Its sales on the mainland dropped 15.2 per cent while those overseas fell 13.6 per cent in the same period.