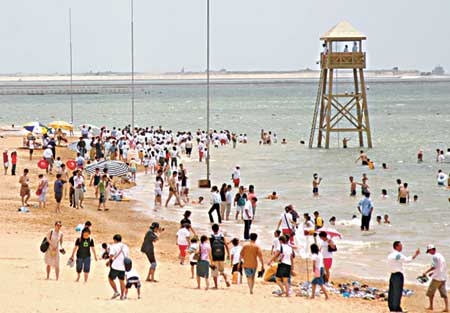 The Jingsha Blue Sea Resort in Shanghai's Fengxian District is the largest man-made beach in China.
Sitting on the same latitude as the Southern Mediterranean, and just a few miles from the coast, it would be reasonable to assume Shanghai should be a pretty good beach holiday destination.
Even the city's name, which literally translates as "On Sea," has echoes of English bucket-and-spade towns which picked up that very suffix to advertise their suitability to Victorian holidaymakers in search of sun, sea and sand.
But, while never having had much of a problem supplying sun and sea, Shanghai has always come up short when it comes to the sand part of the equation.
Having grown up out of marshland, the city's beaches were hitherto only noticeable by their absence.
Which is probably why the local government was willing to fork out 250 million yuan (US$31 million) to build the country's biggest man-made beach.
Following the birth of the idea three years ago and more than a year of construction, which saw the building of an artificial lagoon to keep out the murky waters of the East China Sea and the shipping in of 120,000 tons of sand from Hainan Island, the Jingsha Blue Sea Resort, in Shanghai's southern Fengxian District, opened its doors to the public for the first time Thursday.
Paddling in the shallows armed with rubber ring, bucket and spade, 4-year-olds Emily Li and her cousin Zhang Ying took to the beach like old hands, despite never having been to the seaside before.
"During the week they are usually very busy going to kindergarten and at the weekends Emily has dance and modelling classes, so I thought the holidays were a good chance to bring her outside to play," said the girl's mother, who paid a little over 100 yuan (US$12.5) for the hour-long taxi trip to the beach from central Shanghai.
"It's pretty good, the children like it, but the water's not as clean as I expected the sand may be from there, but this is no Hainan Island."
Whatever her mother's opinion, Emily seemed more than happy, saying it was digging in the sand she liked best, while here cousin said it was playing in the water that he enjoyed most.
To fill the man-made lagoon, water is taken from the surrounding sea, has the silt removed and is then treated for bacteria and pollutants before flowing into the 2.8 square kilometre reservoir organizers claim has space for 5,000 bathers.
Driven by the tides, which suck out old water and supply new water for treatment, engineers reckon it takes about a week for the water inside the dam to be completely changed.

Sporting sunglasses and with his uniform trouser-legs rolled up, security guard Gu Guizhong looked to be enjoying his first day on the job.
"It really isn't bad, I'm very happy to work here," said Gu, who was a guard at the local swimming pool recently till it closed down.
"This place is much bigger than the old pool, and my salary is higher, so it's good. There aren't that many people here today but more will definitely come on the weekend. The boss said we are expecting at least 10,000 people every day."
To cope with such numbers, a car park with space for 2,000 vehicles has been built and shuttle buses, charging 8 yuan (US$1) and taking 90 minutes to reach the beach, run from the southern terminus of Shanghai's metro system.
A team of cleaners will clean the sand for litter every evening and, aside from Gu and seven other security guards walking the 1.3 kilometre imported beach, more than 60 trained lifeguards patrol the swimming area in boats looking out for bathers in trouble.
Keeping them on their toes yesterday was a group of more than 50 military cadets from Gangwan Technical School in Shanghai.
Arriving in uniform, the cadets quickly stripped off their fatigues to head for the water.
"I've never been to the beach before," said 18-year-old Chen Yimei. "I'm really enjoying it, but I wish our instructors would stop deliberately splashing us."
Elsewhere on the sands busy blowing up a rubber ring, insurance salesman Zhao Jianhua had taken the day off from work to come to the beach with his wife.
"I heard about it on the news and I thought it would be better to come here today rather than on the weekend when there will be too many people. It was a real bonus to find out they were letting people in for free today, I was expecting to have to pay 50 yuan (US$6) each," said Zhao.
Impressed by the beach itself, it had perhaps opened a little too soon, he said, gesturing to the exposed steel frame of the still-under-construction changing rooms.
In the coming months and years it will not just be the changing rooms that see further development.
Hotels, apartments, restaurants and other attractions are planned for completion by 2009, along with housing for some 100,000 people, and, if the current beach is successful, a 30-square-kilometre extension to Jingsha is already being mooted.