China and Japan Sunday agreed to set up a communication mechanism to deal with technical and maritime affairs after the conclusion of the sixth round of talks to resolve the dispute over gas exploration rights in the East China Sea.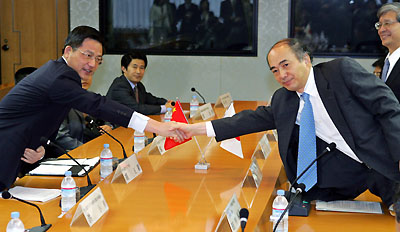 Hu Zhengyue (L) chief of Chinese Foreign Ministry's Asian Affairs Department, and Kenichiro Sasae, head of Japanese Foreign Ministry's Asia-Oceania Bureau, shake hands as they start talks in Tokyo May 18, 2006.[File Photo]
The two sides acknowledged the importance of maintaining stability in the East China Sea and exchanged views on joint development proposals.
Hu Zhengyue, director of the Foreign Ministry's Department of Asian Affairs, and Kenichiro Sasae, head of the Japanese Foreign Ministry's Asian and Oceanian Affairs Bureau headed the delegations for the two-day talks in Beijing.
The third meeting in the past four months reflects the importance the two governments attach to the issue, Hu said ahead of the talks.
Sasae said Tokyo hopes to improve and develop bilateral ties by resolving the East China Sea issue.
In the previous rounds of talks, he said, the two sides had gained a better understanding of each other's position; however, major differences remain.
"Thus we need joint efforts to mend the rift and show our wisdom in facing the challenges," he said.
The Chinese Foreign Ministry admitted lack of agreement but described the latest round of talks as "conducive" and "pragmatic," saying the two sides would continue with the process.
Reports quoted unnamed sources from the Japanese Embassy as saying that the two sides have also agreed to set up a sub-group of oil and gas development experts from both countries to explore the issue.
The first round of talks was held in Beijing in October 2004 and the last round in Tokyo in May, in which the two sides agreed to boost efforts to settle the issue through joint development of the area. However, they differ greatly on development plans.
Huang Xingyuan, a counsellor with the Chinese Foreign Ministry who had been stationed in Japan for five years, told China Daily it is normal that there are disagreements; what is important is that the two sides are sitting down for talks to handle the difficulties and challenges and did not give up on their efforts.
He said both the governments have expressed willingness to improve their relationship and believes that the territorial disputes would be finally resolved.
In another development, State Councillor Tang Jiaxuan met a Japanese delegation of young members of parliament on Saturday afternoon in Beijing.
Tang appealed to the legislators to become the "driving force" in promoting Sino-Japanese friendship and play a positive role in realizing steady development of bilateral ties.
They were in Beijing for a Sino-Japanese friendship forum.