EP president: 'China is a lion awakening'
(Xinhua)
Updated: 2006-07-07 09:42
European Parliament (EP) President Josep Borrell hailed the rapid economic growth of China two days before he leaves for China on July 7 for a seven-day visit.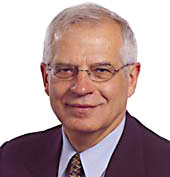 Josep Borrell

Comparing China to an "awakening lion," Borrell said China has undergone "huge" changes over the past 13 years.

His upcoming visit marks EP President's first visit in the past 13 years.

"Napoleon said China is a sleeping lion, but I think now China is a lion awakening," Borrell said in an exclusive interview with Xinhua.

The EP president said China's economic growth was "miraculous," citing the fact that it had recently overtaken Britain and France to become the fourth largest economy in the world.

"China is producing everything, and it is the manufacturing center of the globe. We Europeans believe China is a lion awakening," said Borrell.

Borrell's last China tour dated back to 1988 when he was a senior official of the Spanish government. Borrell said he was then impressed by Shanghai, and later he read a lot about China, especially those books about Chinese history and culture.

Borrell said he liked Chinese food so much that he even befriended a boss of a Chinese restaurant near his house.

In 2005, Borrell became the first EP President who formally extended the greeting of "happy new year" to the Chinese people through a TV channel, which enjoyed widespread applause in China.

"I was very pleased to have this opportunity to address the Chinese people and to express the EP's best wishes for the Chinese 'year of the dog'," he said. "It is a very important tradition for your people and such gestures will help us to get to know each other better."