China opens space center to reporters
(AP)
Updated: 2006-06-29 09:20
China gave reporters a glimpse of the heart of its space program Wednesday - including a rare appearance by its first astronaut.
Foreign journalists were taken on a 90-minute tour of the mission control center on the outskirts of Beijing that has run two manned space flights since 2003 and an adjacent astronaut training school.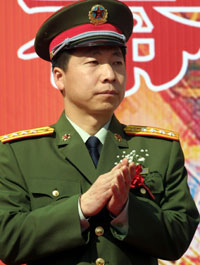 Yang Liwei attends a space exhibition in Urumqi, Northwest China's Xinjiang Ugur Autonomous Region in this photo taken on April 23, 2006. [newsphoto]
The highlight of the tour was a 15-minute appearance by Col. Yang Liwei, his first encounter with Western reporters since he made history in 2003 as China's first astronaut in orbit.
Yang stressed China's desire for "peaceful development of space" - a theme echoed by officials throughout the tour.
"We hope to further our exchanges with our counterparts in foreign countries and learn from each other," said Yang, who wore a gray business suit instead of the bright blue flight suit.
Yang's 21-hour flight made China only the third country able to send a human into orbit on its own, after the U.S. and Russia. He was followed last October by astronauts Nie Haisheng and Fei Junlong, who spent five days in orbit before landing by parachute in China's northern grasslands.
U.S. officials got their first look at the space command center in early 2004, when Gen. Richard Myers, chairman of the Joint Chiefs of Staff, was given a tour.
Later that year, foreign reporters were allowed their first visit to the remote Gobi Desert base where China launches its manned rockets.
This April, NASA administrator Michael Griffin said he had accepted a Chinese invitation for talks on possible cooperation. A Chinese space official was quoted by state media as saying he hoped Griffin's visit would lead to more Chinese scientists being granted U.S. visas to attend aerospace conferences. No date has been set for Griffin's visit.