China central banker urges reserve diversification
(chinadaily.com.cn / Agencies)
Updated: 2006-06-28 11:59
A leading Chinese central bank official said that countries around the world should gradually rely less on the U.S. dollar for trade and their foreign exchange reserves.
The remark comes after the repeated suggestions by former U.S. Treasury secretary and president of Harvard University, Lawrence H. Summers, that the world's biggest holders of U.S. Treasury bonds ought to find better ways to invest their hard-earned money.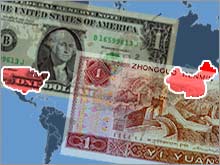 "Internationally speaking, the situation of over-reliance on a certain country's currency for international trade, settlements and reserve assets should be gradually changed," Wu Xiaoling, deputy governor of the People's Bank of China, said in remarks reported by the Financial News on Tuesday.
Following the comments, the dollar briefly fell vs the yen, but soon recouped all the earlier losses, Reuters reported.
Wu did not specifically refer to the dollar by name, but it is the world's main reserve currency and the one in which the bulk of trade is conducted.
Lawrence H. Summers, who was Secretary of Treasury in the last 18 months of the Clinton administration, has argued in recent speeches that developing countries in Asia, Eastern Europe, Latin America and Africa should put much of their excess funds into stocks.
Too often, he contends, the central banks of those countries invest their hoards of foreign securities -- totaling several trillion dollars -- in safe but low-yielding U.S. T-bonds, the Washington Post reported on June 22.
The return "will be zero" on those bonds after inflation and currency changes are factored in, Summers said in a lecture at the Center for Global Development, a Washington think tank.