India, China relations in 'good shape'
(IRNA)
Updated: 2006-06-27 07:25
As India and China held fresh round of talks on the vexed boundary issue in Beijing, Chinese Premier Wen Jiabao on Monday said bilateral ties were in 'good shape' since the enunciation of 'guiding principles' for the settlement of the problem.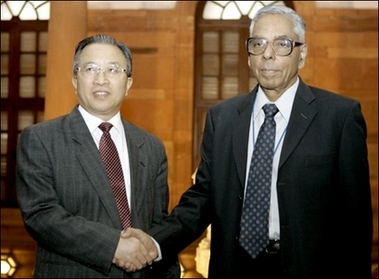 Indian National Security Adviser M. K. Narayanan (right) with China's executive vice-foreign minister Dai Bingguo in New Delhi in 2005. China and India opened their eighth round of talks aimed at resolving a decades-old border dispute that led to a brief war more than 40 years ago. [AFP]


Wen said that ties between New Delhi and Beijing were in good shape since 2005 when he visited India and both nations established the political parameters and guiding principles for the settlement of the India-China boundary question, Doordarshan News said here.

Wen expressed the views in his interaction with India's special representative for border talks and National Security Advisor M K Narayanan, during a courtesy call by the latter.

Wen told Narayanan that he was not merely the special representative for the India-China border talks but also a friendship envoy.

The Chinese premier, who returned on Sunday after a seven-nation official tour of Africa, said India and China formed a strategic partnership last year during his visit to New Delhi and since then, frequent high-level exchanges have taken place which has boosted bilateral ties.

Earlier, Narayanan and his Chinese counterpart, Dai Bingguo held two rounds of talks in Beijing following their informal parleys in the Northwestern City of Xi'an.

The eighth round of border talks end on Tuesday.

Narayanan is also scheduled to meet Chinese Foreign Minister Li Zhaoxing.

The new round of negotiations is taking place after the recent successful visit to China by Defense Minister Pranab Mukherjee as well as last week's historic agreement between India and China to reopen the Nathu La border trade point in northeastern India.