China marked International Anti-Drug Day yesterday with the execution of four traffickers and the start of the trial of an alleged drug kingpin accused of having made more than 18 tons of methamphetamine hydrochloride, known as "ice."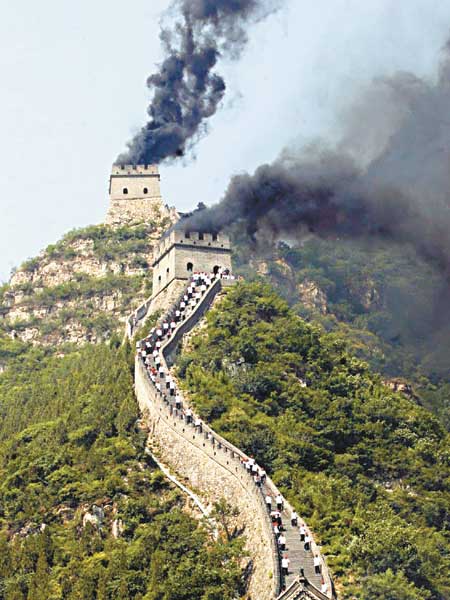 Smoke signals emanate from the Juyongguan section of the Great Wall yesterday, not as a sign of a threat as in ancient times, but to alert the public about the dangers of drug use. More than 1,000 volunteer took part in the event organized by the Beijing Anti-Narcotics Commission. [China Daily]

The four drug traffickers were executed in Wuxi, East China's Jiangsu Province.

Lian Yongming, Wu Bing, Liu Hongwei and Su Chuwen were accused of trafficking 59 kilograms of heroin. From March to October 2004, the four set up a purchase, transport, storage and sales network in Chongqing, Shanghai and Wuxi. Some 53 kilograms of heroin were sold before they were caught, court sources said.

The Wuxi Intermediate People's Court sentenced the four to death last year; and in February, the Jiangsu Provincial High People's Court rejected their appeal and upheld the original sentence. The Supreme People's Court reviewed the case and gave the final nod to the death penalty.

Meanwhile, the Guangzhou Intermediate People's Court started the trial of Liu Zhaohua, 41, who is accused of having produced 18.075 tons of ice during the last decade.

It is roughly the same amount seized around the world each year, court sources said; and reportedly has a street value of a staggering US$7.5 billion in some countries.

According to Chinese law, a person who has produced more than 50 grams of the drug can be sentenced to 15 years in prison, life imprisonment or death.

Liu's wife Li Xiaoqing and four other accomplices are also on trial.

The court did not release any information about the trial yesterday citing sensitivity, as it involves many details about drug-making techniques and his arrest.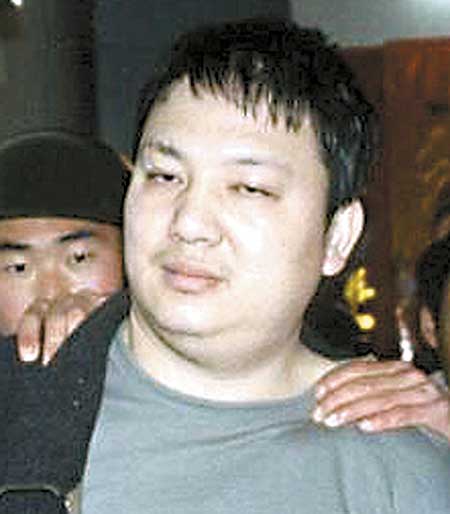 Suspect drug kingpin Liu Zhaohua [file photo]

Liu had been on the run since 1999 when police in South China's Guangdong Province found 11 tons of "ice" stored at a warehouse in Guangzhou.

After failing to locate him for a long time, the Ministry of Public Security asked the public for help in late 2004, offering a record 200,000 yuan (US$25,000) reward for a tip-off. Liu was arrested last March at his hometown of Fu'an in East China's Fujian Province.

The Supreme People's Court yesterday also made public two other cases, one in Guangdong and the other in Northwest China's Xinjiang Uygur Autonomous Region.

Qin Tengjun, along with his accomplices, produced and transported 18.2 kilograms of "ice" since October 2002. The Supreme People's Court upheld the death sentence meted out by a local court, and Qin was executed last Friday.

The Supreme People's Court overturned a death sentence given by a Xinjiang court and sentenced Zhou Jianjun, who transported 800 grams of heroin in 2004, to death with a two-year reprieve.

The highest court said Zhou had helped police catch seven other suspects with 180 grams of heroin.

In another development, the Beijing No 1 Intermediate People's Court yesterday sentenced to death Lu Chunming, who was convicted of selling 680 grams of heroin last November. Lu has 10 days to appeal.

Official figures showed that courts handled 47,232 drug cases from 2005 to May 2006, in which 53,205 were sentenced.

Poppy acreage at record low

KUNMING: Poppy cultivation acreage in the Golden Triangle has been reduced to roughly 13,000 hectares, a record low level in the past century, said a senior anti-drug official in Southwest China's Yunnan Province.

He disclosed that Chinese anti-drug authorities arrived at the figure using satellite remote sensing and inspection technology.

Figures in 2005 and 2004 stood at 26,600 hectares and 36,000 hectares, said Sun Dahong, deputy director of the Public Security Bureau of Southwest China's Yunnan Province, which borders the Golden Triangle.

The area, located on the borders of several Mekong countries, including Thailand, Myanmar and Laos, is considered one of the major drug sources for Chinese drug addicts.

Sun attributed the continuous reduction of poppy plant acreage partly to China's persistent anti-drug campaign, as over 95 per cent of the heroin Chinese drug addicts consume comes from the Golden Triangle.

The Chinese Government has also helped farmers in the Golden Triangle plant cash crops to replace poppy cultivation.

Campaign warns youth 'drugs are not child's play'

More than 2000 students attended the launch of an anti-drug campaign in Wuhan, capital of Central China's Hubei Province, yesterday.

Organized as part of the International Day on Drug Abuse and Illicit Trafficking, and with the theme "drugs are not child's play," the campaign is designed to teach youngsters how to resist the temptation of drugs.

Students signed their names on a long scroll, vowing not to try drugs.

About 20,000 primary and middle schools in the province will also hold activities to inform students about the danger of drugs, said the campaign's initiator, the Hubei Provincial Narcotics Control Commission.

Meanwhile in Northeast China's Jilin Province, about 30,000 books and 3,000 picture pamphlets on drug abuse were distributed to students.

The provincial government urged primary and middle schools in Jilin to run special courses informing students on how to prevent HIV/AIDS and drug abuse.

Also yesterday in Haikou, in South China's Hainan Province, about 2,200 students witnessed the destruction of 45 kilograms of drugs seized from traffickers.

Young people are vulnerable to drugs, because they usually lack knowledge of the harm drugs can do, said Yang Fengrui, director of the narcotics control bureau under the Ministry of Public Security.

And in addition to heroin, new types drugs such as "ice," or methamphetamine, and ketamine are also growing in popularity among the young, he warned.

Karaoke bars, discos and gaming lounges, are becoming places where young people can get their hands on drugs, he said.

Also marking the day, police departments in Shenzhen, South China's Guangdong Province, yesterday said they would co-operate further with Hong Kong police in fighting drug smuggling.

Drug bosses in 35 per cent of the drug cases unearthed in Shenzhen last year were from Hong Kong, according to local police. And local customs officers have also uncovered 54 drug smuggling cases since June 26, capturing 69 smugglers, of whom 40 were Hong Kong residents.

On June 11 police raided an apartment and captured three Hong Kong residents who were making methamphetamine. The gang leader was seized later.

Police found 34 kilograms of finished methamphetamine, as well as about 2 kilograms of half-finished products and 3 kilograms of raw materials in the apartment.

The Shenzhen Intermediate People's Court yesterday officially announced the arrest of the gang, along with five others suspected of making and trading drugs.

Another nine people, aged 20 to 35, have received sentences ranging from three years in jail to death for drug crimes.


(China Daily 06/27/2006 page1)