Shenzhen health officials yesterday reported a new human case of suspected bird flu.

The victim was identified as a 31-year-old man surnamed Jiang, who was listed in critical condition last night.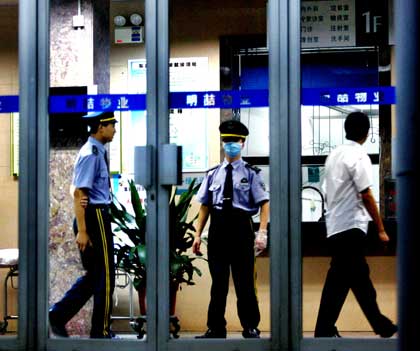 A security guard wearing respirator stands on duty at Donghu Hospital in Shenzhen, Guangdong province June 13, 2006. The suspected bird flu patient is undergoing treatment at the hospital. [newsphoto]


He began complaining of fever, coughing and back pain on June 3 and was admitted to Shenzhen People's Hospital last Friday, according to authorities in the Guangdong Province city in China's south.

The Shenzhen Center for Disease Control said Jiang tested positive for the deadly H5N1 strain of the virus. The Guangdong provincial health bureau then reported the case to the Ministry of Health for verification.

The patient was transferred to the city's Donghu Hospital yesterday for advanced treatment after his body temperature measured 40 degrees Celsius.

Medical staff were disinfecting all possible contamination sites in the city.

If state health officials confirm the preliminary diagnose, Jiang would become China's 19th human case of the disease. Twelve of the victims have died.

HK bird flu experts head for Shenzhen

Hong Kong medical and veterinary experts will go to its neighboring city of Shenzhen in south China's Guangdong Province to gather more information on the human case of avian influenza there, a Hong Kong official said Wednesday.

Hong Kong Secretary for Health, Welfare and Food York Chow said the case is worrying and could see the suspension of live mainland chicken imports for three weeks if confirmed.

He added that what concerns health authorities most is that the patient has no specific history of close contact with poultry, similar to two previous cases in Shanghai and Guangdong. Repeated cases on the mainland may mean there might be some "silent infections" among poultry, which might carry the virus while not showing symptoms.

Chow assured that Hong Kong has all the tools and mechanism to detect human avian flu and contain it.

"We should not panic, but at the same time we should be cautious," said Chow.

The Hong Kong delegation will discuss the case with the mainland officials later Wednesday, and share information on epidemiological, laboratory and animal investigation findings, as well as clinical treatment of the case.

Hong Kong Department of Health will continue temperature checks at boundary checkpoints, and accidents and emergency wards have been reminded to step up monitoring of unknown sources of pneumonia.