Hu wraps up US visit with Yale speech
(Xinhua)
Updated: 2006-04-21 00:17
Values of Chinese civilization

Highlighting such values as social harmony and peaceful development, Hu expounded on Chinese civilization during his Yale speech.

"The Chinese civilization has always given prominence to social harmony, unity and mutual assistance," Hu said.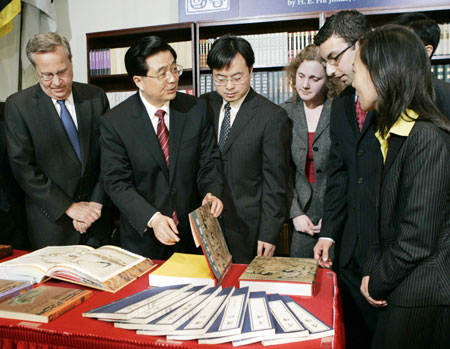 Chinese President Hu Jintao (2nd left) shows Yale University students some of the gifts of Chinese books to the University as Yale University President Richard C. Levin (L) watches in New Haven, Connecticut, April 21, 2006. [Reuters]


The Chinese people takes the maintenance of ethnic unity and harmony as their bounden duty and the defense of the country's sovereignty and territorial integrity as a sacred mission, Hu said, warning that "any act that undermines China's ethnic harmony and national unity will meet their strong opposition and resistance."

The love for peace and good neighborliness, according to the president, are also traditional values of the Chinese civilization.

"China holds high the banner of peace, development and cooperation. It pursues an independent foreign policy of peace and commits itself firmly to peaceful development," said Hu.

He said China seeks to accelerate its development by upholding world peace.
Explaining traditions of the civilization, President Hu also mentioned such values as putting people first and seeking self-improvement.

"We are pursuing today a people-oriented approach toward development," Hu said, adding that the Chinese nation has grown after surviving numerous setbacks and adversity thanks to the spirits of self-improvement, reform and innovation.

Closer cooperation needed

Hu Jintao urged both China and the United States to promote their cooperation, saying their "closer cooperation serves the fundamental interests of the two countries and the peoples."

Hu said China and the United States are both countries of vast territory where many ethnic groups co-exist and different cultures intermingle.

"Due to different historical backgrounds and national conditions, there are differences between China and the U.S.. But this enables us to learn from each other and draw on each other's strength," he said.

The Chinese president said closer cooperation between the two countries "is also of far-reaching significance for peace and development of the whole world."

He said the world has continued to undergo profound changes after entering the 21st century. "Peace and development remain the calling of our times," while factors causing instability and uncertainty are increasing and new challenges and threats are looming, he said.

"Against this backdrop, the common interests between our two countries are increasing and the areas of our cooperation widening," he told the audience, noting that the global peace and security now face new challenges such as fighting international terrorism, preventing the environment and human habitat and combating transnational crimes.

He said it is exactly in these fields that China and the United States share important strategic interests.

"China has a huge market and its development has generated strong demand, while the United States has advanced technology and high quality products. This has created enormous opportunities for economic and technical cooperation between our two countries," he said.

"When we focused on the overall interest of China-U.S. relations, respect and show understanding to each other, I am confident that our relations will move ahead in a healthy and steady manner and contribute to the well-being of our two peoples and bring greater hope to people around the world," said the Chinese president who arrived the Yale campus for a brief visit on Friday morning from Washington.

Talking about culture and civilization in the world, Hu said all civilization in human history have contributed to human progress in their own unique way.

"Culture diversity is a basic feature of both human society and today's world and an important driving force for human progress," he said.

"Differences in ideology, social system and development model should not stand in the way of exchanges among civilization, still less should they become excuses for mutual confrontation.

"We should uphold the diversity of the world, enhance dialogue and interaction between civilization, and draw on each other's strength instead of practicing mutual exclusion," he stated.

Talking about Yale, the Chinese president said his host is a forerunner in conducting China-U.S. educational exchanges and provides an important platform for cultural exchange between China and the United States.

"Exchanges in culture and education and among young people serve as a bridge for increasing mutual understanding between our two peoples," he said.