Hu wraps up US visit with Yale speech
(Xinhua)
Updated: 2006-04-21 00:17
NEW HAVEN, the United States -- Visiting Chinese President Hu Jintao said at Yale University Friday that China had aligned itself with a new concept of scientific development to meet the needs of 21st century.

"To realize these goals (for the next 15 years), China has adopted a new concept of development in line with its national conditions and the requirement of the times," Hu told Yale University students in New Haven, Connecticut.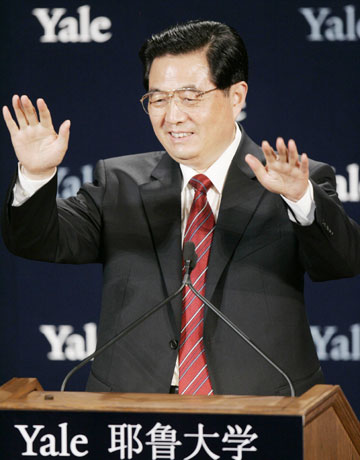 Chinese President Hu Jintao gestures to the audience at the beginning of his address during his visit to Yale University in New Haven, Connecticut, April 21, 2006. [Reuters]


China will "pursue a scientific outlook on development that makes economic and social development people-oriented, comprehensive, balanced and sustainable," Hu said.

"We will work to strike a proper balance between urban and rural development, development among regions, economic and social development, development of man and nature, and domestic development and opening wider to the outside world," said Hu.

Hu further said that China would put greater emphasis on addressing issues affecting people's livelihood, overcoming imbalances in development, and resolving key problems that have occurred in the course of development.

The president said China would pursue a new path to industrialization featuring high technology, good economic returns, low resource-consumption, low environment pollution and the full use of human resources.

"We will bring about coordinated economic, political, cultural and social development," said Hu, noting that China would also endeavor to ensure sustainable development by boosting production, improving people's lives and protecting the environment.

Hu underlined the basis of the new concept, saying it was "based on the experience China has gained in its modernization drive and put forth in response to the trends of the times."

"It is also rooted in the cultural heritages of the Chinese nation," he added.
Hu also introduced China's goal for the next fifteen years to the Yale students, saying China aimed to "raise China's GDP to 4 trillion U.S. dollars by 2020, averaging 3,000 dollars per person."

China "will strive to make new progress in building a moderately prosperous society in an all-round way that will benefit China's one billion and more population," Hu said.

"By then, China's economy will be better developed, and its democracy will be further enhanced. More progress will be made in science and education," Hu predicted.
"Its culture will be further enriched, its society will become more harmonious and the people will lead a better life," he added.