Henry Merritt "Hank" Paulson Jr. (born March 28, 1946) served as the 74th United States Treasury Secretary and is a member of the International Monetary Fund Board of Governors.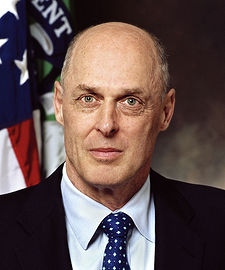 He previously served as the Chairman and Chief Executive Officer of Goldman Sachs. In 2008, Time magazine named Paulson as a runner-up for its Person of the Year 2008, saying, with reference to the Global Financial Crisis of 2008: "if there is a face to this financial debacle, it is now his".
He joined Goldman Sachs in 1974, working in the firm's Chicago office under James P. Gorter. He became a partner in 1982. From 1983 until 1988, Paulson led the Investment Banking group for the Midwest Region, and became managing partner of the Chicago office in 1988. From 1990 to November 1994, he was co-head of Investment Banking, then, Chief Operating Officer from December 1994 to June 1998; eventually succeeding Jon Corzine (now Governor of New Jersey) as its chief executive.
His compensation package, according to reports, was US $37 million in 2005, and US $16.4 million projected for 2006. His net worth has been estimated at over US $700 million.
Paulson has personally built close relations with China during his career. In July 2008 it was reported by The Daily Telegraph that: "Treasury Secretary Hank Paulson has intimate relations with the Chinese elite, dating from his days at Goldman Sachs when he visited the country more than 70 times."
Paulson was nominated on May 30, 2006, by U.S. President George W. Bush to succeed John Snow as the Treasury Secretary. On June 28, 2006, he was confirmed by the United States Senate to serve in the position. Paulson was officially sworn in at a ceremony held at the Treasury Department on the morning of July 10, 2006.