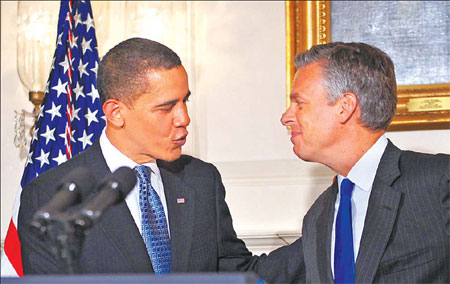 US President Barack Obama chats with Utah Governor Jon Huntsman, whom he nominated as the next US ambassador to China, at the White House on Saturday. AFP
US President Barack Obama has nominated Utah governor Jon Huntsman, a Republican and a fluent Chinese speaker, as ambassador to China.
"This ambassadorship is as important as any in the world because the United States will best be able to deal effectively with the global challenges of the 21st century by working in concert with China," Obama said at the White House ceremony on Saturday with Huntsman standing beside him.
He also said there was "much to be gained by a closer, working relationship with China" and that he could think of no one better suited for the job than Huntsman.
Huntsman, who has a good command of Putonghua, will - once confirmed by the Senate - succeed Clark T. Randt, who left the post on Jan 21 after an eight-year tenure, the longest since 1979.
Chinese experts call the Obama pick a "surprise" as well as a "smart move", which shows commitment to a bipartisan foreign policy.
Obama explained the bipartisan nature of the nomination by describing Huntsman as "the kind of leader who always puts country ahead of party".
The appointment could also mean that Huntsman - widely considered a leading Republican contender for the 2012 presidential election - would not be in the race should Obama stand again.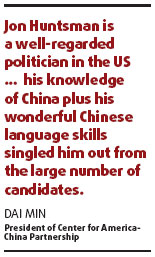 Huntsman has served in Republican administrations and was co-chairman of Senator John McCain's losing presidential campaign last year.
Son of a Utah multimillionaire and philanthropist, Huntsman established his political credentials as a White House staff assistant to president Ronald Reagan, ambassador to Singapore under president George Bush in 1992 and deputy trade representative under president George W. Bush in 2001.
He has been the governor of Utah since 2004, and won a second term in 2008 with 77 percent of the vote.
Huntsman's nomination as ambassador to China has broadly been met with praise in both countries.
"Jon Huntsman is a well-regarded politician in the US ... his experience as ambassador to Singapore and his knowledge of China plus his wonderful Chinese language skills singled him out from the large number of candidates," Dai Min, president of the US-based Center for America-China Partnership, said.
Yuan Peng, professor of America Studies at the China Institute of Contemporary International Relations, said Obama appointed Huntsman "in order to seek China's help and cooperation" on several international and regional issues, including the global financial woes, climate change, and the denuclearization process in Iran and the Democratic People's Republic of Korea.
Huntsman may play a key role in strengthening high-level exchanges by helping put in place the Sino-US Strategic and Economic Dialogue mechanism, agreed to by President Hu Jintao and Obama at the G20 summit in April, said Tao Wenzhao, an expert at the Chinese Academy of Social Sciences.
"Dialogue on climate change may be a highlight of Huntsman's tenure as he has already made a name for himself in this field as governor of Utah and the issue is very much part of the Obama administration's core missions," Tao said.
Benjamin Moeling, deputy political attache at the US embassy to China, said he thinks Huntsman is highly qualified for the job, citing his "knowledge of trade laws, people skills and language competency".
China connection
Huntsman, whose Chinese name is "Hong Bopei", learned Putonghua when he was a Mormon missionary in Taiwan as a teenager.
Chinese language programs are popular in Utah and Chinese language classes in more than 70 schools have an enrolment of 3,489 students, with 14 schools to start similar courses in the next two years.
"Knowledge of Chinese is going to be critical in the future," Huntsman told China Daily last month.
His family has business ties with China through Huntsman Corp, a chemical company which has operations in the country including a factory in Shanghai.
He adopted a Chinese daughter, Gracie Mei, from Yangzhou, Jiangsu province, in 1999.
(China Daily 05/18/2009 page1)