Chinese firms eye bigger share of smartphone market
Updated: 2013-11-01 14:28
GUANGZHOU -- Chinese domestic mobile producers are cashing in on the smartphone craze as they eye a bigger slice of the market which is dominated by Apple Inc and Samsung Group.
At the on-going biannual Canton Fair, held from Oct 15 to Nov 4, in the country's economic hub of Guangdong province, producers are showcasing their self-developed gadgets.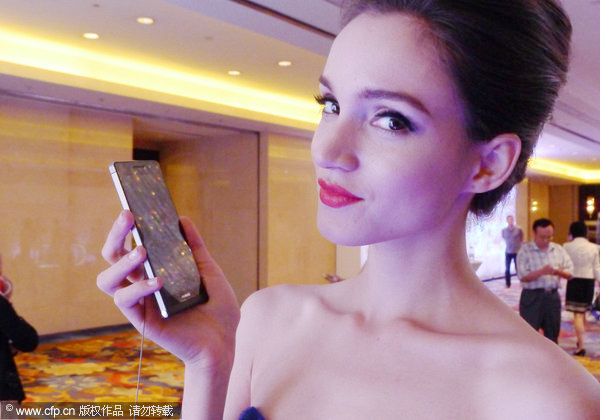 A model displays a Huawei Ascend P6 smartphone during the lauching ceremony of the flagship mobile phone in Beijing, June 19, 2013. [Photo / CFP]
At the fair, Pierre Cardelli, a representative with French retail group Auchan, said the company would purchase mobile phones from China because they now see less mimicking and a rise of indigenous designs.
"Manufacturers like Huawei can produce very advanced smartphones, and their core components are self-developed. The low-end products now just take up a smaller share in Chinese exporters' portfolios. The whole market has changed," said Cardelli.
From contractor to competitor
China exported more than one billion mobile phones last year, accounting for 80 percent of the world's total. However, producers received only a very small share of the overall profit, according to Liu Chun, secretary general of the China Chamber of Commerce of Machinery and Electronic Products.
"It is because the products were not carrying their own brand name," said Liu.
Huawei Technologies Co is one firm that is starting to compete with Western industry leaders with its own smartphones.
The Shenzhen-based company is the world's second largest telecom equipment maker after Ericsson. It is the sixth largest phone maker in the world, with shipments of handsets totalling 12.9 million in the second quarter.
The company has research and development centers in the UK, Sweden, France and Italy, and employs 70,000 researchers. It provides hundreds of new models for European operators each year. But very few are branded as Huawei phones.
Shao Yang, the company's chief marketing officer, told Xinhua that it was not an easy decision for Huawei to shift focus, as it had little experience in the retail market.
"We knew we didn't have enough resources to support both phones for operators and a self-developed brand. We don't want to make Huawei phones low-tier, 100-dollar products. So we reduced production of mobiles for operators in the first half of 2012," said Shao.
Huawei initially had 14 operators in Europe but during its worst period, Vodafone was the company's only remaining contracted operator.