Suning invests in video website PPTV
Updated: 2013-10-28 18:49
Suning Commerce Group Co, the country's largest electronic retailer, said it will invest $420 million in video website PPTV.com, along with private-equity firm Hony Capital Ltd, to further integrate its resources in content and distribution channels as part of its efforts to transform into an internet retailer.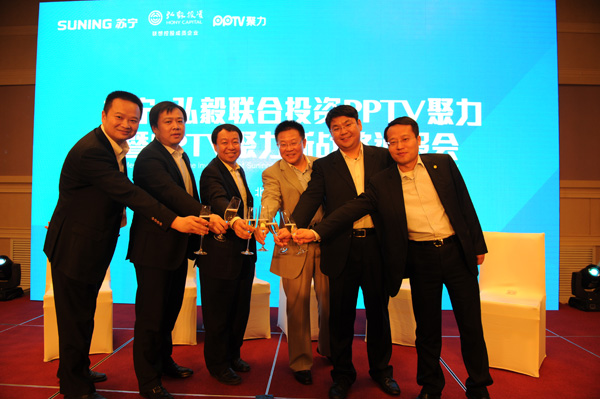 Top executives from Suning, PPTV and Hony Capital celebrate the deal at the signing ceremony in Beijing, Oct 28, 2013. [Photo/chinadaily.com.cn]
Suning will invest $250 million, taking up 44 percent of PPTV and becomes its largest share holder. The deal is the retailer's largest single investment and will be "strategic", said Sun Weimin, vice chairman of Suning.
He said the combination between internet retail and intelligent video website will facilitate Suning's goal to build up a cloud business model that integrates all distribution channels and all product lines and customer bases.
Sun said the two sides will provide platforms and content for upstream electronic manufacturers and content suppliers and build up an industrial chains. The retailer's massive sales volumes of more than 10 million television units will also boost the business development, he said.
PPTV, founded in 2005, covers internet terminals including website, computer, mobile phones and iPad, with more than 340 million active users and ranked No 3 in the video website sector.
Tao Chuang, CEO of PPTV, said the new investment from Suning will expand the user database from online to physical stores and enhance their knowledge of their customers while keep them lasting time on their platforms.
Suning could become the first batch of group to get the licenses for mobile virtual operators by partnering with China Unicome Ltd and China Telecome Corp Ltd.