Apple bets on Burberry chief to burnish retail shine
Updated: 2013-10-19 15:49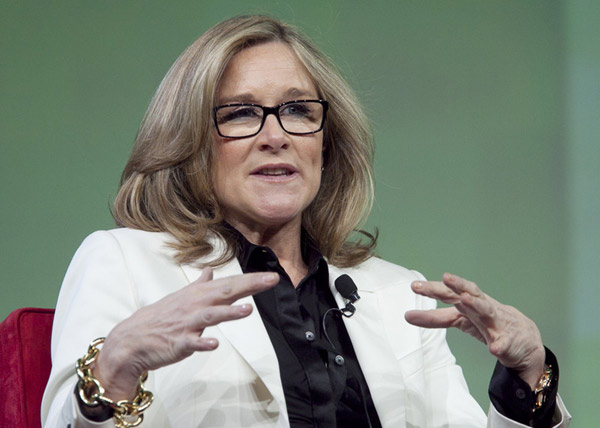 Burberry CEO Angela Ahrendts speaks at the National Retail Federation's annual convention in New York. Apple said Tuesday, Oct. 15, 2013, that Ahrendts, who used technology to drive a remarkable turnaround at Burberry, will take charge of Apple's expansion plans and retail operation,as she will become a senior vice president at the company next spring. [Photo / dfic.cn] 
SAN FRANCISCO/LONDON -- Burberry CEO Angela Ahrendts rebuilt the British luxury brand after excessive exposure of its trademark checkered pattern alienated wealthy clientele. Her approach was to embrace digital innovation, build a strong online business, and tap Chinese and Latin American markets.
Now Apple Inc is hoping she can do the same at the world's most valuable technology company.
In hiring Ahrendts to direct strategy, expansion and operation of Apple's retail and online stores, Chief Executive Tim Cook has set her the task of bolstering iPad and iPhone sales, and returning some lustre to a brand that has not launched a major new device in almost four years.
One of her main challenges will be to boost Apple's sales in China, its second-largest market. Here, analysts say, Ahrendts will be able to draw on her Burberry experience of introducing less expensive goods without damaging the value of the brand.
"The point of Apple retail is to sell Apple, not to sell Apple products," said Benedict Evans, who covers mobile and digital media at Enders Analysis, a research consultancy.
"What they've got is somebody who can take 400 stores with really great premium positioning and turn that into 800 stores and do that in China, and do that in India and do that in Europe and in Russia and in South America and everywhere else which at the moment they don't really have."
Ahrendts is the first woman to join Apple's executive team in nearly a decade and will take on an expanded role, overseeing its vast network of stores that employs about 42,400 people and online teams. Apple has not disclosed how much she will be paid.
The head of the 157-year-old Burberry Group Plc BRBY.L was Britain's highest-paid CEO in the 2011-2012 financial year, taking home 15.6 million pounds ($25 million) thanks in part to a large number of shares awards. She took home 6.8 million pounds in the 2012/13 fiscal year.
Apple's former retail chief Ron Johnson, who had a brief and disastrous stint as CEO of JC Penney after leaving Apple in 2011, made $29.8 million in 2010. He is credited with building Apple's retail network from scratch in his decade-long stint.
At Burberry, Ahrendts began a website dedicated to the firm's traditional trench coats and introduced webcast catwalks, using the new iPhone 5S to shoot the spring/summer 2014 show. Ahrendts also collaborated with Google Inc for a brand campaign named Burberry Kisses.
But jumping to Apple - whose $157 billion net sales are nearly 50 times those of Burberry - is a challenge of a different proportion for Ahrendts. The pressure is made all the more intense by Cook's previous stumble hiring a retail head from the British market.
John Browett, CEO of British consumer electronics retailer Dixons, was Cook's first major hire after he took over from Steve Jobs as CEO in 2011. But Browett left after just six months, and later said he had not fitted in with the business culture at Cupertino, California-based Apple.
Silicon Valley-based Gartner analyst Carolina Milanesi said not being steeped in the culture "and looking at the space and the brand from an outsider's perspective might actually be a plus.
"We are in a little bit of a bubble here in as far as what we think the consumers want and what they think of the brand."