Alibaba plots digital revolution
Updated: 2013-10-18 08:08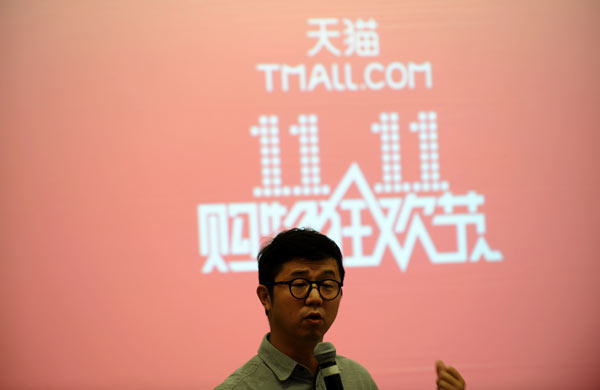 Tmall Vice-President Wang Yulei discusses the company's plans for Singles Day at a news conference on Tuesday. [Photo / Provided to China Daily]
E-commerce giant plans to penetrate offline stores
It seems that just being China's e-commerce king isn't good enough for Alibaba Group Holding Ltd.
After helping more than 80,000 online retailers sell goods across China, the company plans to team up with more brick-and-mortar stores with the goal of revolutionizing the nation's retail industry.
Ahead of Singles Day, which falls on Nov 11, Alibaba has for the first time invited about 30,000 offline stores to participate in the nation's largest online shopping spree.
Shoppers are encouraged to check out the real items in physical stores, put their favorites into online shopping carts by scanning two-dimensional bar codes and buy their choices on Nov 11, when huge discounts will be offered.
"With more and more people shopping online, the business of brick-and-mortar stores has been challenged by online rivals. We want to put an end to that by integrating the online and offline shopping experiences," said Zhang Yong, chief operating officer of Alibaba.
With the growing popularity of mobile Internet use, the line between online and offline shopping will be blurred.
"Rather than having e-commerce, the entire retail industry will be digitalized in the future," he said, adding that Alibaba wants to help digitalize traditional offline retailers and help them be more Internet-savvy.
He didn't go into details, saying that Nov 11 would be just kind of a test. He said that the company plans to cooperate with more offline stores and give them digital upgrades, either on their supply chain management or membership management.
The competition between online retailers and brick-and-mortar stores is getting increasingly fierce in China. Alibaba's Tmall and Taobao marketplaces reported a combined 19.1 billion yuan ($3.12 billion) in daily sales for their Double Eleven promotions, double the revenue generated by the United States' Cyber Monday, which is the Monday after Black Friday, the Friday following Thanksgiving.
The change in shopping habits comes as almost half of China's population now has direct access to the Internet. Of that number, nearly 80 percent own smartphones or tablets.
China's e-commerce market grew at an average rate of 71 percent from 2009 to 2012, and its value is expected to reach 3.3 trillion yuan by 2015, said a report released by consultancy Bain & Co on Wednesday.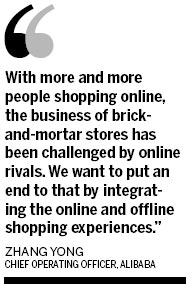 However, chain retailers have had a tougher time over the past several years. The total sales of listed retail companies rose 12.2 percent year-on-year in 2012, a much slower growth rate than in recent years.
Their aggregate net profit decreased 7.7 percent from 2011, the first drop in recent years, said a report titled "China Power of Retailing 2013" released by consultancy Deloitte Touche Tohmatsu Ltd in August.
"The booming online retail sector is grabbing market share from traditional retailers with its advantages of lower prices, convenient payment systems and door-to-door delivery," said Long Yongxiong, a consumer and transportation industry joint leader at Deloitte China.
Under assault from e-commerce firms, the profit margins of the physical retail industry in China fell from 5 percent in 2005 to about 2.5 percent last year, a Kantar Retail report said.
In Alibaba's view, there can be a win-win situation for online retailers and their offline counterparts as long as brick-and-mortar stores go the digital route.
Wu Qian, senior director of Tmall.com, Alibaba's online marketplace, painted a picture of the future of the retail industry.
"All shopping malls will be equipped with Wi-Fi. As soon as you enter a mall, your mobile phone will automatically send you a message about the location of the stores you may like, which is based on your previous shopping preferences online," she said.
"There will be fewer and fewer cashiers because people will pay online, and shopping carts will be smaller as there will be home delivery."