Fairfax bids $4.7b to take BlackBerry private
Updated: 2013-09-24 16:13
Smartphone maker BlackBerry has agreed to go private in a $4.7 billion deal led by its biggest shareholder, allowing the on-the-go email pioneer to regroup away from public scrutiny after years of falling fortunes and slumping market share.
The $9 a share tentative offer, from a consortium led by property and casualty insurer Fairfax Financial Holdings Ltd, will set a floor for any counteroffers that might emerge for Blackberry, which has been on the block since August.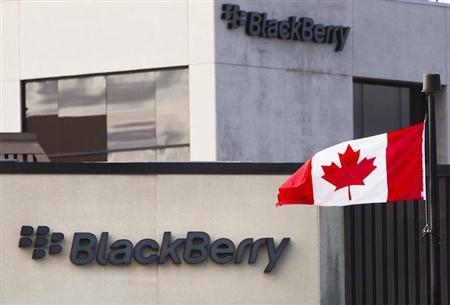 A Canadian flag waves in front of a Blackberry logo at the Blackberry campus in Waterloo, Sept 23, 2013. [Photo / Agencies] 
As an investor, Fairfax Chief Executive Prem Watsa is often described as the Canadian Warren Buffett because he also takes the long view.
Blackberry shares peaked above $148 in June 2008 when the company's devices were still the top choice for bankers, politicians and lawyers.
The stock, halted pending the announcement on Monday, closed below the offer price on Nasdaq, at $8.82, indicating the market's lack of faith that other bids would emerge.
BlackBerry, based in Waterloo, Ontario, once dominated the market for secure on-your-hip email. But it introduced consumer-friendly touchscreen smartphones only after it lost the lead to Apple Inc's iPhone and devices using Google Inc's Android operating system.
BlackBerry has until Nov 4 to seek superior offers, which the Fairfax group has the right to match. The group is seeking financing from Bank of America Merrill Lynch and BMO Capital Markets to complete the deal and has until that Nov 4 deadline to conduct its due diligence.
A BlackBerry statement did not name members of the consortium, although many in the financial community see Canada's deep-pocketed and influential pension funds as likely participants.
"We need to be careful given disclosure constraints, but we can say that we are focused on a strong Canadian solution," said Fairfax spokesman Paul Rivett.
The pension funds, with assets around the world, traditionally take a long-term view in their investment decisions. Officials at the biggest funds either did not reply to requests for comment, said they had no information or declined to comment.
"We never discuss whether or not we plan to enter into any investment," said Deborah Allan, spokeswoman for Ontario Teachers' Pension Plan.