WeChat striving for global expansion
Updated: 2013-08-05 13:53
One world, one chat
With an eye on the international market, WeChat is now available in 18 languages, including English, Indonesian, Spanish, Portuguese, Thai, Vietnamese and Russian. The app can be used on almost all mainstream mobile phone systems thanks to a first-class research and development team at Tencent. WeChat is growing quickly in overseas markets. Tencent announced on July 3 that WeChat has accrued over 70 million registered overseas users, a sharp jump from the 40 million users it claimed it had back in April.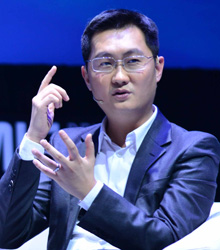 Ma Huateng, co-founder and Board Chairman of Tencent, is making a speech at the Global Mobile Internet Conference in Beijing on May 7, 2013. [Photo /CFP]
"The software has been especially successful in Indonesia, India, Malaysia, Mexico, Singapore and the Philippines," said Martin Lau, President of Tencent, at a developer conference held in Beijing on July 3.
To further expand its user coverage, Tencent has unveiled an advertising campaign featuring internationally famed soccer star Lionel Messi to run in 15 countries, including Argentina, Brazil, India, Italy, Mexico, South Africa, Spain and Turkey.
WeChat has adopted a localization strategy when branching out by hiring celebrities as part of its marketing efforts. A much-loved feature of WeChat is a wide range of cartoon emoticons that users can send to each other, called emoji. With overseas markets in mind, WeChat has designed emoticons featuring local big names. For instance, in India, Tencent roped in popular Bollywood actors Parineeti Chopra and Varun Dhawan as brand ambassadors. Emotes featuring the two Bollywood stars caused a sensation in the country. WeChat is also working closely with businesses overseas and is cooperating with Chang, a well-known beverage company in Thailand.
WeChat's fun features coupled with Tencent's strong marketing skills have made the app popular across different markets and helped the app's popularity soar. User growth is one encouraging sign for the tech company, one of several Chinese Internet companies that have ambitions to expand their businesses abroad. "Successful or not, this is an once-in-a-lifetime opportunity for Tencent," said Ma Huateng, co-founder and Board Chairman of Tencent, speaking about Tencent's global layout.
Not easy
While boosting popularity among users outside China, WeChat is faced with competition in the global mobile-chat app market from WhatsApp, Line and Kakao from South Korea.
WhatsApp announced in June it has racked up over 250 million active monthly users worldwide. Line announced on July 23 that it has amassed 200 million global users, and Kakao said in July that the number of its users has topped 95 million. The four are bound to duke it out in the global market.