All dressed up with somewhere to go
Updated: 2013-07-27 10:24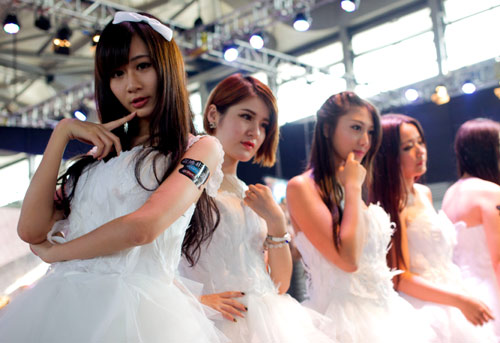 Models dress as characters from an online game at 2013 ChinaJoy Cosplay, which opened at Shanghai New International Expo Center on July 25 2013. [Gao Erqiang / China Daily]

For hundreds of Chinese cosplay fans, Sunday is their big day.
More than 1,000 contestants will take part in a cosplay competition, part of the four-day 2013 ChinaJoy Cosplay carnival, which is considered the most professional in the country.
Cosplay, short for "costume play", is an activity in which participants wear costumes and accessories to represent a specific character or idea from a work of fiction.
The carnival, being staged in Shanghai, began with the China Digital Entertainment Expo and Conference on Thursday.
Ruo Ye, 24, who runs a shop selling female clothing and wigs on China's largest e-commerce website Taobao, is an avid cosplay fan. She said she will take part in the contest dressed as a character in the online game The Graverobbers' Chronicles.
Ruo, wearing a purple blouse, white miniskirt, white knitted lace tights, and waving a green fan, said, "I am a maid. My costume is not expensive, costing only 200 yuan ($32.6)."
Asked why she likes cosplay, she said, "Maybe I've gone a little bit insane."
Ye Li, a 20-year-old university student majoring in marketing, traveled from her hometown of Wuxi in Jiangsu province on Wednesday night to attend the ChinaJoy opening ceremony. She decided to come dressed as an ancient warrior in the game Swordsman III.
"I spent 50 yuan on the ticket, but the tailor-made costume cost me 1,000 yuan," she said.
Ye sells costumes on Taobao that she makes by hand. "It is not that difficult making the costumes and I can earn some money to come to ChinaJoy."