China Eximbank lends Zimbabwe $319m for hydro-power plant
Updated: 2013-11-12 10:10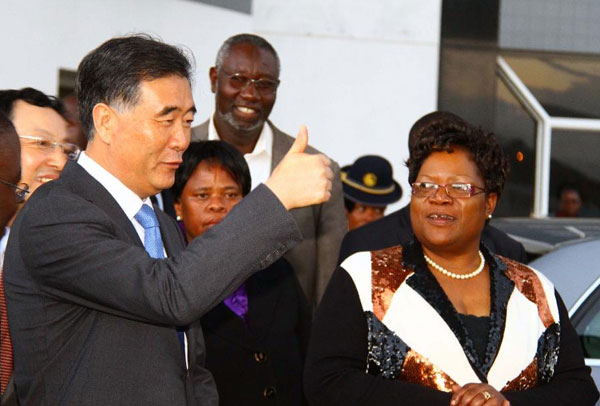 Chinese Vice-Premier Wang Yang gestures upon his arrival as Zimbabwe's Vice-President Joyce Mujuru (R) is seen in Harare, Zimbabwe, on May 21, 2013. Wang Yang arrived in Harare on Tuesday, starting an official visit to Zimbabwe, the first leg of his African trip from May 21 to 25 to boost China's relations with the continent. [Photo/Xinhua]
HARARE -- China Export-Import Bank on Monday signed a deal to lend $319.5 million to finance the expansion of Zimbabwe's major hydro-power station, boosting its power supply by 300 megawatts when the project ends in five years.
Zimbabwe has been grappling with massive power blackouts due to ageing generation plants and the growing demand for power to re- ignite growth of its industries.
The expansion of Kariba South Hydro electricity plant, on Zambezi River about 400 km from Harare, costs $355 million. With China Eximbank covering 90 percent of the cost, Zimbabwe Power Company will take care of the rest 10 percent.
A statement released by the Finance Ministry said Zimbabwe will pay a concessionary 2 percent interest on the loan over 20 years. There is also a five-year grace period.
"The preferential loan agreement we have signed today seals the co-funding arrangement to actualize implementation of the Kariba Hydro Extension project," said Zimbabwe's Finance Minister, Patrick Chinamasa, who signed on behalf of the government.
He said the whole southern African region is currently facing energy shortages. "For Zimbabwe, this has hamstrung efforts to revive our underperforming economy. Without reliable supplies energy, our economic turnaround efforts will not bear fruit," Chinamasa said.
Zimbabwe, which has been battling to recover from a serious economic meltdown during the decade up to 2008, has recently witnessed a fresh spat of company closures as a result of its prolonged electricity crisis, among other reasons.
The country's power generation firm has been producing about 1,200 mW against the current energy demand estimated at about 1,700MW. But the demand can further grow once the industries are revived.