Philanthropists donate less as economy slows
Updated: 2013-04-11 09:18
Donations by China's top 100 philanthropists have dropped dramatically for a second year running, according to a report released on Wednesday.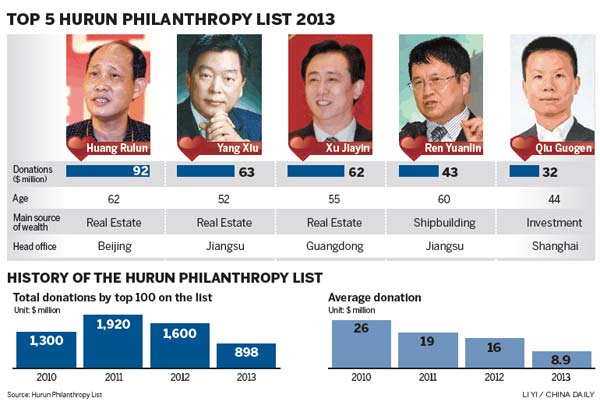 The latest Hurun Philanthropy List 2013 — from the Shanghai-based Hurun Report, which documents wealth in China — measured cash or cash-equivalent donations from April 1, 2012 to March 31, 2013.
It showed a 44 percent fall to $890 million from the previous period, after a 53 percent fall the year before, when a series of natural disasters dominated the national charitable-giving agenda.
The cut-off total for the latest top 100 list was $1.7 million, a 43 percent drop on the previous $3 million.
The new list showed that philanthropists donated 0.9 percent of their total wealth on average, down from the 1.3 percent last year.
Rupert Hoogewerf, chairman and chief researcher of Hurun Report, said the average excluded last year's huge donations by Cao Dewang, chairman of Fujian-based Fuyao Glass Industry Group, and Xu Jiayin, chairman of the Guangzhou-based Evergrande Real Estate Group Ltd.
Those two exceptional donations last year also partly resulted in the drop this year, he said.
Despite there being no equivalent survey for overseas philanthropic donations, Hoogewerf said the levels in China were quite reasonable.
"Donations are down for the second year running, as Chinese entrepreneurs figure out ways to make their donations more effective.
"The leadership these individuals bring to China's nonprofit sector far outweighs the value of their donations," he said.
He added that philanthropists are becoming more "systematic" in their donations, thinking more about the result and the ultimate objective of each donation they make
"Also, the country's economy has slowed, and that will definitely have a very significant impact on the amount of donations," he said.
Related Readings
Philanthropy on rise in China: Bill Gates

Philanthropy becoming new status symbol for wealthy

China seeks to expand modern philanthropy

Philanthropy in China: Time for answers