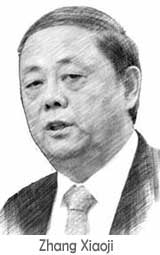 Greece itself is a small economy. If it leaves the currency union, it won't cause substantial damage to China's trade or economy. The key point lies in whether a domino effect would follow.
Which country will be the next Greece? Will the eurozone be disbanded eventually?
If the worst-case scenario happens, the Chinese economy will come under great pressure as the biggest trading partner of the euro area, and the influence might be stronger than the 2008 economic crisis.

China sailed through the 2008 economic crisis smoothly. With lessons drawn from that crisis, I think the government can handle and survive a possible crisis ahead quite well.
The government has lowered its target for this year's economic growth in light of the uncertainties and challenges facing the world economy. Weaker external demand will not have a "shock" effect on China's growth, as exports are no longer a significant contributor to economic growth.
The contribution of net exports to economic growth was minus 5.8 percent in 2011. But export-oriented companies will be badly affected and many may have to lay off employees or shut down.

If the current global economic recovery is sustained, China is still on track to hit the 10 percent growth rate target for exports and imports in 2012. But if Greece quits the eurozone, given its possible consequences, the target might be missed.
Exports to the European Union declined in April and the trend is very likely to persist.
A possible eurozone breakup may cause worldwide panic, making consumers more cautious about spending money.

China has a huge stockpile of foreign exchange reserves and part of that could be used to bail out Europe, but China must have a bigger say in global management in return. Countries like Greece must strictly adopt a stringent fiscal plan and offer less welfare.
For China, it's impossible to shift to a consumption-driven economy in the short term, given that it is a developing country in the process of urbanization and industrialization.
Investment will remain the driving force for economic growth but big investors should switch from government to companies.
If the government could clearly express that the country will stick to reforming the market, allowing companies to have greater independence in making investment decisions and cutting taxes, China will generate enough internal strength to maintain pretty steady growth in the coming decades.
----- Zhang Xiaoji
Senior researcher, foreign economic relations department, Development Research Center of the State Council