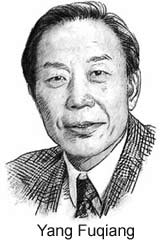 Last year's talks in Durban, South Africa, were the climax of climate change negotiations. It's likely that this year's talks in the Qatari capital will be transitional and pragmatic.
They could be regarded as a success if three standards are reached without a compromise, that is, they should be balanced, fair and pragmatic.
A balance should be achieved between developed and developing countries on their historic responsibilities but also the current and future scenario of greenhouse gas emissions. In addition, a balance should be reached among topics, including mitigation, adaptation, funding and capacity building.
However, even if we cannot reach a consensus on some issues this year, we should try and reach a global deal before 2015.



A consensus has not been reached on many issues, while some conflicts are very sharp. Many developed countries are insisting on the principle of "common but differentiated" responsibilities and insist that a new global climate treaty starting from 2020 should be in line with the principles of the United Nations Framework Convention on Climate Change.
However, some developed countries think these principles are not so necessary in discussing the new global climate deal.
They also have different opinions on the function of the carbon market - some small, developing island nations and some developed countries think its function is limited and is not suitable for all countries.




Nations haven't reached a consensus over issues on the second commitment period of the Kyoto Protocol, such as how to achieve a higher target under the second commitment period.
How could the target be implemented? Should the length of the second commitment period be eight or five years? How could the framework include countries that declined to join the second commitment period and how to achieve a smooth transition between the two periods?
Some developed countries are in a rush to close the twin-track negotiations. Little progress has been made in recent negotiations.




All parties think it's a common target to keep the 21st century temperature rise under 2 C and design various plans for emission reduction. Both developing and developed countries should strengthen trust and take joint action.
Climate change talks are important for addressing climate change, but domestic efforts should also be highlighted.

----- Yang Fuqiang
Senior advisor on energy, environment and climate change
Natural Resources Defense Council