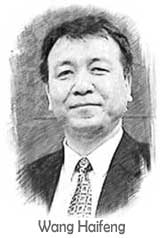 The European sovereign debt crisis won't end in the short term, though the winning Greek party now supports the bailout plan. Countries in the eurozone directly beset by the crisis are likely to suffer weak economic growth in the next decade.
The election result of the Greek Parliament can help (the country) implement austerity measures and continue to take bailouts. It is also a benefit for the stabilization of the European financial system.
However, the possibility of a Greek exit has not yet been eliminated as the crisis may deepen in the next two or three years. Other countries may also have the potential to quit the eurozone, adding risks to the global economy.



The European Union needs to strengthen the European Financial Stability Fund and European Stability Mechanism, as well as build a firewall together with the European Central Bank, the International Monetary Fund and the G20.
At the same time, market-based debt restructuring should start along with financial retrenchment. To some extent, fiscal integration on the continent should be accelerated with the help of issuing eurobonds.

 

China can contribute to solving the problem of indebted Europe, although it mainly depends on those EU countries themselves. China may participate in the firewall building and bailout plans, under the IMF and G20.
The steady growth and reform of the Chinese economy can increase confidence of the global market, especially providing trade and investment opportunities for the EU countries, which can help them get out of their dilemma.
The Chinese government should encourage domestic companies to expand investment in Europe while improving risk management capacity. It can also inject new vitality into economic growth.
More preferential measures can be introduced to attract European companies to increase investment in China and reduce their market risks.



The Chinese government may need to lower the economic growth expectation to as low as 7 percent in order to tame inflation and leave more space for policy adjustments with the increasing uncertainties and risks from outside.
China should maintain the continuity and stability of macroeconomic policies. More fiscal and monetary fine-tuning measures need to be taken to support the development of the manufacturing industry.
Encouraging expansion of the real economy such as manufacturing and stimulating domestic demand can help stabilize GDP growth while accelerating economic restructuring. What should be avoided is to expand supply recklessly.
The tight measures for the property market should not be eased soon, and more market-based reform is expected to rebalance development among different industries.
-----Wang Haifeng
Director of international economics, Institute for International Economic Research,
a think tank under the National Development and Reform Commission