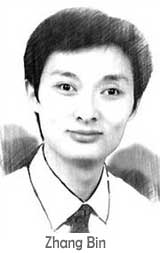 If Greece leaves, there are two big concerns for the Chinese economy. An exit of Greece may cause upheavals in the financial market, threatening the European banking system.
If the banking system collapses, banks cannot provide export-credit guarantees or make irrevocable letters of credit, which will be catastrophic for Chinese export enterprises and their business will be suspended. But I think that's a low-probability scenario.
The departure will also affect China's capital market. Every time Europe's debt crisis deepens, large amounts of capital withdraw from emerging economies such as China, leading to domestic currency depreciation.
In the first quarter, China's foreign exchange reserves declined (and there were) changes in China's trade balance as well as a slowdown of capital inflows.

A Greek exit would be a huge challenge to China's trade if it affected the European banking system. Banks in Italy and Spain may also go out of operation for months.
It's risky that Chinese exporters will no longer trust the creditworthiness of European banks and dare not take orders.
Similar to the bankruptcy of Lehman Brothers, the chaos may only last for months, but Chinese companies must be prepared. China's economy is slowing down, a reflection of its structural transition. Whether a new round of the eurozone debt crisis will hit or not, China has to draw on its inner strength for growth.
I think an urgent task ahead for policymakers is to strive to maintain jobs in the export sector in the coming months.

Exports to Europe declined greatly in the first quarter and it's true that Europe would become less important as an import and export market if the crisis intensifies.
China can still count on other emerging economies with rapid economic growth. Overall, external demand could only contribute a very limited amount to the Chinese economy in the long run.

Policymakers will have very limited leeway to ease the external risks or improve the dim global economic realities. For the domestic market, a great concern is that the government should not over-stimulate the economy and release excessive liquidity, to avoid possible aftereffects.
There are ways to activate the domestic market by lowering entry barriers for service industries such as medical care and education and cutting taxes for small and medium-sized enterprises.
Opportunities for investment are enormous, but the government's role is easing market entry instead of investing heavily (by such means) as accelerating infrastructure spending.
----- Zhang Bin
Researcher at the Institute of World Economics and Politics, Chinese Academy of Social Sciences