Luxury sales aid world economy
Updated: 2012-01-17 10:10
By Yang Ning and Zhu Jin (China Daily)
| | | | | | | | | | | |
| --- | --- | --- | --- | --- | --- | --- | --- | --- | --- | --- |
|   | | Comments() | | Print | | Mail | | Large Medium  Small | 分享按钮 | 0 |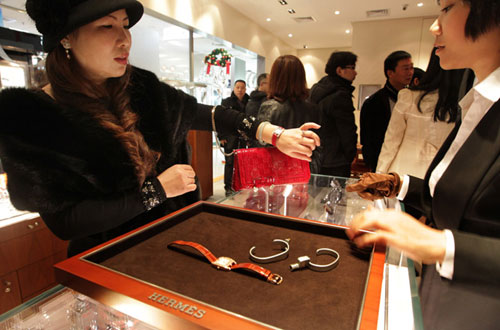 A woman trying on new designs of Herms wristwatches at the French brand's franchise store in Wenzhou, Zhejiang province. Herms at present has 20 shops in China, fewer than half of the number of shops it has in Japan. [Photo/China Daily]
High-end products appeal to nation's growing number of rich and middle class
BEIJING - What provides some relief in today's chilly global economic climate is not just the continuous growth of emerging countries as the world's economic engines, but also the strong performance of luxury goods, especially in China.
It is predicted that the value of luxury goods bought on the Chinese mainland will reach 100 billion yuan ($16 billion) in 2011 for the first time ever, with an annual growth rate of 25 to 30 percent, which means China is likely to surpass Japan as the world's largest purchaser of luxury goods in 2012, according to the latest report from Bain & Company.
Consultancy firm McKinsey & Co also expects China to be the largest luxury goods market in the world by 2015, accounting for more than 20 percent of global sales.
"At this pace, Chinese consumers will, in the medium to long term, make up 70 percent of the global luxury market's growth," said Bernard Malek, a partner at Roland Berger.
Financial results support their confidence, as the luxury brands, especially top-end manufacturers, have indeed benefited from soaring sales in China. Richemont, one of the world largest luxury groups, for example, has seen its share price triple from 2009 lows and now trades at 17 times 2011 forecast earnings, with 2.6 billion euros ($3.4 billion) net in cash. Burberry and Prada appear stretched on multiples of more than 20 times.
However, many high-end brands are finding the luxury market in China is different from the one they are used to in Japan.
Although the affluent population in Japan is much larger, in China the people who buy luxury goods are willing to spend a much bigger share of their income on them - 10 to 15 percent in China compared with only 4 percent in Japan, according to the latest McKinsey survey "Insight: China-luxury goods".
Also Chinese buyers of luxury goods are generally much younger, 15 to 20 years younger on average. Young consumers in Japan have been moving away from luxury goods due to the weak Japanese economy in recent years. Even working women who still live with their parents, once famous for their consumption of luxury goods, are not such prominent high-end spenders as they used to be. In China gift-giving is also a significant factor in the sales of luxury items.
It has taken less than five years for China to grow from a very small market for luxury brands to their most important market. Yuval Atsmon, a partner at McKinsey, who led the research on buyers of high-end brands, believes the reason for China's importance is "clearly due to its already huge size and the massive growth potential, but also due to high profitability levels, often better than other markets".
Allowing for the spending of Chinese shoppers abroad, which some brand managers estimate is similar to their spending in China, Chinese people could soon represent more than 50 percent of the business of outlets selling quality brands. For some that is the case today.
Lutz Bethge, global chief executive officer of Montblanc, said: "Apart from the similarities with other Asian markets, the Chinese mainland has unique characteristics in its faster growth of the wealthy population and its rising middle-class segment which not only represents growing consuming power, but also means a rapidly growing interest in luxury goods."
"What is remarkable in our experience is that the purchasing power from second- and third-tier cities in China has also been growing very fast," he added.
As with their expansion strategy in Japan, luxury brands in China are now under pressure to open more retail outlets in China since it is still far from being a saturated market. For instance, Herms at present has 20 shops in China, fewer than half of the number of shops it has in Japan. Chanel has only eight boutiques in China. There are more than 50 in Japan.
However, Atsmon said: "It is possible that even as Beijing or Shanghai become markets as big or bigger than Tokyo, there will be fewer but bigger stores. As for smaller cities, the brands want to reach more cities where there is a clear demand for their goods, but they must ensure they do not compromise their standards as they rush to expand, which is especially important in China, as for many consumers this will be their first exposure to the brand." Some brands are prepared to expand more slowly than others, concentrating on quality rather than quantity.
Montblanc, for instance, which has been investing in China for nearly 10 years, opened its "worldwide concept" store in Beijing on Jan 12, at which it will offer a unique customer experience for Chinese shoppers. As Montblanc's biggest investment in the Chinese market yet, the new four-level store in Sanlitun, displaying a full spectrum of its luxury collection, from its ever-growing range of genuine Swiss timepieces to writing instruments, leather, jewelry and accessories, is also the largest Montblanc boutique in the world. It indicates how important the China luxury market is seen by the brand.
China has become the largest market in the world for many top brands. Montblanc, although it now already operates nearly 100 boutiques across China, including the recent launch of a large new boutique in Guangzhou, still chose Beijing for its largest store, showing the brand's commitment and confidence in China.
Besides recruiting and training high quality shop assistants for boutiques, McKinsey also suggests luxury brands can leverage their cultural heritage since it can add value and increase the attraction of products for Chinese people.
Many brands are looking to exploit their heritage by building small museums and staging exhibitions. However, more than one-third of Chinese shoppers prefer products with Chinese designs and traditional elements, especially the emerging middle-class customers, according to McKinsey.
"It is critical to establish our luxury European brand heritage image well before we consider local elements because we need to make the customers believe in the brand first in terms of reliable quality, European craftsmanship and the prestigious status of owning a Monblanc product," said Bethge.
But even if they want to, luxury brands cannot ignore the preferences of Chinese buyers. For instance, the traditional desirability of gold for Chinese people mean that Montblanc watches and writing instruments that contain gold are their best sellers in China. They have also launched products specific to the Chinese market, such as the Fortune Number 8 writing instrument introduced in 2009 - eight is seen as the most auspicious number in China.
Some brands have gone as far as launching Chinese lines - most notably Shang Xia (topsy-turvy in Mandarin), a new brand established by Herms especially for China. Many brands now have exclusive lines for the Chinese market. This is a particular strong trend for watches.
Atsmon said: "We will see more Chinese designs, trends and insights influencing the European teams, very possibly with parts of the design team actually being in Shanghai. This trend is already being seen with some luxury car makers."
Because it will become the largest luxury market in the near future, those brands that have a strong position in China may need to behave as if they are Chinese companies. This will include not only their investment strategies and designs, but also management. While Japan has a very prominent share, the current trend in China suggests it will become a bigger market and therefore more important than Japan for the makers of luxury goods.