Smartphones change our habits
Updated: 2011-11-01 10:22
By Wei Tian (China Daily)
| | | | | | | | | | | |
| --- | --- | --- | --- | --- | --- | --- | --- | --- | --- | --- |
|   | | Comments() | | Print | | Mail | | Large Medium  Small | 分享按钮 | 0 |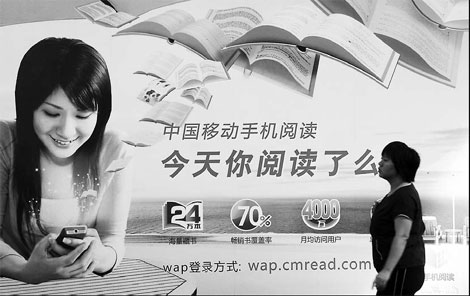 A billboard advertising wap.cmread.com, the website of China Mobile. It provides a variety of content for its mobile phone subscribers. [Photo/China Daily]
Publishers urged to break down novels into smaller segments to capitalize on new trend
BEIJING - Although millions of Chinese people have abandoned traditional books for mobile phone novels as smartphones becomes more popular, paying for what you read is merely an option for most readers.
Su Chenhui has been a big fan of online novels since his college days but has never paid for any of the hundreds of books in his eight-gigabyte mobile phone memory card.
"There is not really much difference between a pirated version and a legal copy except for a little delay if you want to get it free," said the 26-year old IT major graduate, adding that pirated novels can be easily reached via links provided by some search engines.
"It's pointless paying for what you can get free. Besides, most of the books are just potboilers. I would still pay for valuable content such as research reports, but in most situations when I need them I can always get access via an account that has been paid by my university or my company."
According to data from the China Internet Network Information Center, the number of mobile Internet users exceeded 303 million by the end of 2010, 30 percent up on the previous year.
The Yearbook of Digital Publishing in China (2010-2011), released by the Chinese Academy of Press and Publication, showed that the total revenue of the digital publishing industry has grown from 21.3 billion yuan ($3.3 billion) in 2006 to 105 billion yuan in 2011.
Hao Zhensheng, the academy's director, said the emergence of micro blogs and tablet computers has created unexpected new opportunities for the industry.
However, despite all the optimism, a report by the market research company Analysys International shows that only 21 percent of users surveyed are willing to pay for a newspaper on their mobile phones, although more than half said it's what they read most frequently.
Despite the findings, newspapers are the most likely to make a profit among mobile phone readers. Other popular content such as novels, magazines and cartoons all have less than one fifth of readers who are potential payers.
More than a quarter of the people said they are not willing to pay to read anything at all on mobile phones, and that group is still growing, Analysys International's report said.
The report attributes the main reason for a shrinking willingness to pay to the easy access to readable content using smartphones, which lowers the threshold for getting free information through Internet access.
"Lack of quality content is also a reason for the poor financial performance of the mobile reading market," the report said, citing the fact that and only 8 percent of the readers say they'll pay for literature.
"Publishers are still cautious in terms of putting their quality articles into mobile circulation because of the intellectual property problem. The problem of piracy remains very much unsolved," the report said.
Traditional literature, serious and sophisticated as it is, is not really suitable for reading on mobile devices in short bursts. People would rather just buy books directly, it said.
With classical works fading away, social and lifestyle information are quickly taking up the screens.
According to the report, choosing traditional literature for "frequent reading" has dropped from 56 percent to less than 40 percent. Meanwhile, the percentage for social networks and blogs has doubled.
Sun Peilin, analyst and compiler of the report, said shortness in length and high interaction are the two reasons why social networking sites have overtaken literature as the first choice for readers.
"Mostly, when people read on their mobile phones, it's either at bedtime, waiting in line, or on public transport. In other words, in fragmented time," Sun said.
"Publishers should consider breaking down the novel structure into smaller chapters to accommodate the new reading habits of mobile users."
The survey also listed the most popular literary websites in China, among which China Mobile's wap.cmread.com topped the list. Nearly 30 percent of those surveyed said they have visited the site.
The most popular book on wap.cmread.com has been clicked on 900 million times, and the most profitable novel has already made 12 million yuan.
"Mobile reading combined with the operator's binding service and vast client base are the key factors to the fast growth of the business," Sun said, adding that many of the reading services are paid monthly and are free of flow rate fees.
Online novels have not yet contributed to publishers' profits, but there is still the opportunity for them to do so, said Liu Fang, chief executive officer of a digital publisher under the China Writers Association.
"Some readers buy the physical book after they've read the digital version," Liu said. "So mobile reading does not really damage businesses but increases the size of a readership group instead."
Having realized digital publishing is already an inevitability, many traditional publishers have been establishing a digital division over the past year, Liu said.
"When publishers unleash more of their quality content next year, mobile reading will see a real boom," he said.