The bitterest pill for the sugar industry
Updated: 2011-10-31 10:53
By Li Jiabao and Ding Qingfen (China Daily)
| | | | | | | | | | | |
| --- | --- | --- | --- | --- | --- | --- | --- | --- | --- | --- |
|   | | Comments() | | Print | | Mail | | Large Medium  Small | 分享按钮 | 0 |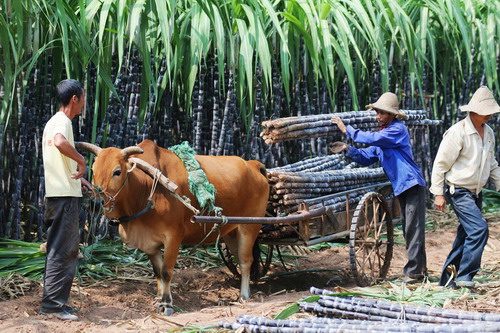 Farmers harvest sugar cane in Shangsi county in the Guangxi Zhuang autonomous region. As the country's largest sugar-producing region, Guangxi accounts for two-thirds of the nation's production with annual output of about 7 million tons. [Photo/ China Daily]
Chinese producers suffer as costs rise but output remains limited
Chongzuo, Guangxi - Despite the rise in the price of sugar nationally over recent years, life is not so sweet for China's sugar cane farmers.
The rising costs of labor and raw materials, limited arable land and outdated technology are squeezing profits and leaving a bitter taste in the mouths of those working in the industry.
Ling Dongbiao, a 48-year-old who has been planting sugar cane since his childhood in the Guangxi Zhuang autonomous region, is a prime example.
"What I now earn from planting sugar cane is much higher than in 2002 or 2003, but my costs have also increased," he said.
Currently, it costs between 120 yuan ($19) and 130 yuan a day to hire a worker to chop or transport sugar cane. The figure was just 30 yuan five years ago.
Ling lives in a two-story building in Nanuo village in the Xinhe township of Guanxi's Chongzuo city, next to his 3 hectare sugar field.
He is one of the 1.31 million sugar cane farmers in Chongzuo City, which has produced more than 2 million tons of sugar annually since 2003. That's about one-fifth of China's annual output and has resulted in the place acquiring the nickname "The home of Chinese sugar".
The price of sugar has been rising since the second half of 2007. On Aug 16, it surged to a record high of 7,932 yuan a ton, up from about 3,000 in 2008, according to statistics from the China Sugar Index, one of the nation's leading price monitors.
And the price is expected to keep on climbing, to between 8,000 yuan and 10,000 yuan a ton.
As the country's largest sugar-producing region, Guangxi accounts for two-thirds of the nation's production and has annual output of about 7 million tons and approximately 20 million farmers and 35 companies engaged in the regional industry.
"The sugar price will continue to rise before the end of the year. A price between 8,000 and 10,000 yuan a ton would be reasonable," said Mo Jiang, vice-president of Chongzuo Xianggui Sugar Co Ltd, a producer in Guangxi, which has an annual output of 165,000 tons.
The rise in sugar prices would suggest that his company could reap greater profits, but Mo denied that this is the case, because of rising costs, especially for labor, and a decrease in yields as a result of unfavorable weather.
"In addition to fertilizer and equipment, laborers are the major source of the rising costs," Mo said.
"An increasing number of the younger generation in the village would like to move to cities for job opportunities rather than plant sugar cane here," he said.
It's estimated that in 2010 labor costs accounted for about 39.5 percent in the total investment of the average cost of 32,250 yuan for each hectare planted with sugar in Guangxi.
However, since June the region has experienced a severe drought, which has led to a reduction in output.