Coming soon: Cell phones that do it all
Updated: 2011-10-10 11:28
By Shen Jingting (China Daily)
| | | | | | | | | | | |
| --- | --- | --- | --- | --- | --- | --- | --- | --- | --- | --- |
|   | | Comments() | | Print | | Mail | | Large Medium  Small | 分享按钮 | 0 |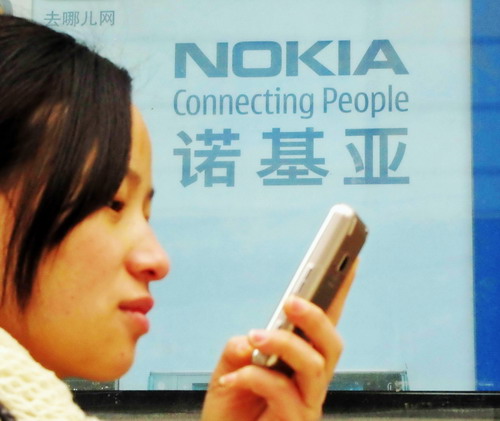 A woman using a mobile phone in front of a billboard in Shanghai advertising Nokia mobile phones. Nokia Corp is the world's first company to add a very short-range communication technology to its phones. The technology, called NFC, is like Bluetooth but is slower, less energy-intensive, requires closer proximity and does not need pairing. [Photo/China Daily]
That includes credit card payments, travel tickets, photos and much else
BEIJING - A decades-old technology is now being incorporated into mobile phones to enable them to swap information, including photos, pay for goods or add new features to games.
Near field communication (NFC) is a short-range communication technology like Bluetooth but is slower, less energy-intensive, requires closer proximity and does not need pairing.
One way it is being exploited at the moment is with the highly popular game Angry Birds. By simply tapping two mobile phones possessing NFC together, new levels can be unlocked.
Nokia Corp is the world's first company to add the development to its phones. In addition to new features in games, mobile phones with NFC capability will make it easy to share favorite photos and music with friends and family. Just find the picture you want to pass on and tap the phone you want to pass it to.
People can use an NFC handset as a boarding pass, reducing check-in delays and staffing requirements. The device may also provide simpler procedures to purchase rail, airline, movie, or concert tickets.
Coupons are available if you tap an NFC tag on a retail display or posters with digital information. What's more, an NFC device may help users complete a payment for a credit card by touching a payment terminal when a password is entered.
The NFC technology has received increased attention over the past five years, although it first emerged as early as the 1980s.
Nokia launched the world's first NFC-enabled phone - the Nokia 3220 - in 2005. The company recently announced it will provide NFC support in all future Symbian phones. It is very possible that Nokia will add the NFC function to its highly-anticipated Windows phones, said a Nokia official who declined to be named.
The company is the most active NFC technology promoter in the Chinese market, where it has more than 200 million mobile phone users. In 2007, Nokia conducted NFC trials in Beijing, Guangzhou and Xiamen, allowing people to use NFC-enabled phones to take a bus or buy things in supermarkets and convenience stores.
'We regarded Nokia as an arrogant phone maker that moved slowly and was reluctant to accept changes. However, it is now demonstrating a very active attitude toward some technologies and changes," said Wang Ying, an analyst at Beijing-based research firm Analysys International.
NFC could be a valuable feature for Nokia mobile phone users since more industry partners have decided to cooperate with Nokia to launch NFC services, Wang added.
The Chinese Internet giant Tencent Holdings Ltd developed an NFC service for mobile phone users, allowing them to add contact information to NFC-enabled phones with a simple tap.
Jiepang.com, a leading Chinese location-based social website, similar to Foursquare, teamed up with Nokia to promote NFC check-ins. It provides a faster and verified way to check-in and share locations with friends simply by swiping an NFC-enabled smartphone over Jiepang logos.
Jiepang aims to offer various NFC-embedded logos to its merchant partners across China in the near future.
"An NFC check-in has a lot of user benefits. We think our merchant partners will feel really comfortable rewarding check-ins, as they will know for sure that Jiepang users are actually physically in their stores," David Liu, chief executive officer of Jiepang, said.
Other mobile phone makers, including Samsung Electronics Co, HTC Corp and Research in Motion Ltd, have all participated in launching NFC services.
Taiwan-based HTC Corp, in cooperation with China UnionPay, the Chinese mainland's sole bank card processor, launched the world's first mobile phone that supports UnionPay's mobile payment standard. The handset utilizes NFC technology and can help users to complete payments through banks' point-of-sale (POS) machines.
HTC's NFC product was due to arrive on the market as early as September.
Xu Jinyao, general manager of China UnionPay's mobile payment department, recently said there were already 400,000 POS machines in China and these are likely to increase to 700,000 by the end of this year.
NFC mobile contactless payment transactions will amount to nearly $50 billion worldwide by 2014, according to market forecasters Juniper Research. The company also forecasts there will be almost 300 million NFC-capable smartphones in the market by 2014, with at least one in five smartphones worldwide possessing NFC.
Western Europe, North America and other developed regions could be major markets for NFC-enabled devices, the researcher wrote.
However, Sandy Shen, a Gartner analyst based in Shanghai, said she did not expect a rapid expansion of NFC technology before 2015 in China.
"The wide-ranging application of NFC technology needs certain conditions. It requires a large amount of NFC-enabled smartphones in the market. In addition, it needs a clear business model," Shen said. The timing is not right, at least for the next few years, she added.