Ringing the changes
Updated: 2011-08-08 09:14
By Shen Jingting (China Daily)
| | | | | | | | | | | |
| --- | --- | --- | --- | --- | --- | --- | --- | --- | --- | --- |
|   | | Comments() | | Print | | Mail | | Large Medium  Small | 分享按钮 | 0 |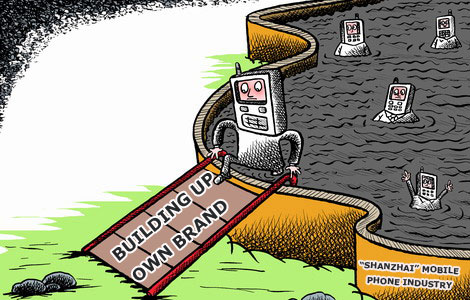 Decline of shanzhai
MIC mobile phones usually fall into three categories. The first refers to handsets made by the Chinese manufacturing bases of global brands, or original design manufacturer (ODM) partners, which carry global brands and are shipped globally though those companies' own logistics systems.
The second refers to handsets made by domestic companies (such as Huawei, ZTE and Lenovo Group), or original equipment manufacturer (OEM) partners, which bear Chinese brands.
Shanzhai (copycat) mobile phones - that is handsets with unknown or unidentifiable brands - belong to the third category. "They are made by hundreds, or even thousands, of 'gray' manufacturers mainly located in Shenzhen and the surrounding areas," said Linda Sui.
She pointed out that shanzhai handsets, also known as "white-box" phones, often have no valid International Mobile Equipment Identifier numbers. That means the handsets are not subject to the regular testing processes and manufacturers can avoid paying a multitude of taxes.
North Huaqiang business street may now be famous as one of the largest mobile-phone distribution centers, but it was once equally famous for selling shanzhai models.
Cao Xiaohui, from Henan province, who has run a small counter in the Yuanwang Digital Mall in the North Huaqiang business district for more than three years, said shanzhai sales are falling.
"The price of branded handsets is dropping, which attracts more buyers. Meanwhile, people tend to buy smart phones now because they have many fun applications," Cao said.
Kyle Sun, a mobile-terminal analyst at the German research firm GfK Group, said sales of shanzhai handsets have declined rapidly in the domestic market since the beginning of this year.
"Domestically speaking, the major market for shanzhai products is in the rural areas. However, many branded phone companies have managed to build up a presence in fourth- to sixth-tier cities, by selling their wares at prices comparable with shanzhai products," said Sun.
In addition, international brands are also penetrating the rural market through the sale of low-end devices or subsidized mobile phones, he added.
The profit margin of shanzhai products is being dramatically squeezed because of the increasing costs of labor and materials, in addition to rising logistics costs associated with fluctuations in the price of oil, according to Strategy Analytics' Sui.
A government crackdown has also had an impact: in shenzhen's North Huaqiang business street, hundreds of shanzhai retailers have drawn back and ceased trading since the end of last year, leaving empty counters in the marketplace.
More importantly, third-generation (3G) technology has also taken off in some emerging markets, including China.
There is stricter control on intellectual property rights for 3G phones, as well as the increasing importance of the mobile ecosystem - the relationship between all the companies involved in the industry, from chipmakers to phone manufacturers- which have conspired to push shanzhai phones into a disadvantaged position compared with legitimate products.
"We forecast the gray phone industry will further slip on a global basis," Sui told China Daily.
However, providing that they can accumulate sufficient capital and research and development sources, a shift toward legitimate production would be a good move for some shanzhai makers, she added.
"We do see shanzhai phone producers building up their brands in China and globally. Vendors also want to sell 3G and smart phones, but they have not been able to affect the market yet," Gartner's C.K. Lu pointed out.
"White-box manufacturers also face a risk if they become bigger because a higher profile means that they may attract legal action from the global brands," Lu added, referring to G'Five International Ltd, a Shenzhen-based handset supplier that mainly sells phones in Asian and African countries, and was sued by Nokia in India for alleged infringement of intellectual property rights.