Coke's China plan on right track
Updated: 2011-08-05 17:45
By Zhang Yuwei (China Daily)
| | | | | | | | | | | |
| --- | --- | --- | --- | --- | --- | --- | --- | --- | --- | --- |
|   | | Comments() | | Print | | Mail | | Large Medium  Small | 分享按钮 | 0 |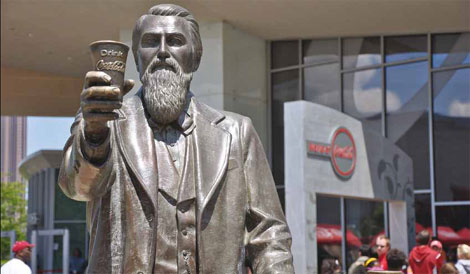 Statue of John Pemberton, who invented the drink Coca-Cola, in front of the World of Coca-Cola museum in Atlanta. [Photo / China Daily] 
ATLANTA - When John Pemberton poured the first glass of Coca-Cola in Jacob's Pharmacy just a few blocks from the current Coca-Cola headquarters in Atlanta 125 years ago, the inventor of the carbonated drink surely never thought it would spread to more than 200 countries.
Today, Coca-Cola's portfolio features $15 billion in brands, including Diet Coke, Fanta, Vitaminwater, Powerade, and Minute Maid, with 500 brands and 3,500 beverage products sold worldwide.
In 1978, The Coca-Cola Company became the only company allowed to sell packaged cold drinks in China. So far, it has invested more than $1.3 billion in the Chinese market, with an additional $2 billion planned as part of its 2020 global vision. The company wants to double its revenue and bottlers by 2020.
Coke considers China, which is its third-largest market after the United States and Mexico, as having the greatest potential globally. Muhtar Kent, CEO of Coca-Cola, said he cannot predict when China might become the company's largest market, but said "it will happen".
In China, Coca-Cola employs more than 30,000 local people, and has more than 40 bottling plants. Last year, the company opened its 41st bottling plant in Hohhot in the Inner Mongolia autonomous region.
Kent has confidence in emerging markets such as China and he thinks the company's long-term plan in China is on the right track.
Kent said he was happy with the projections about the Chinese market despite sales falling 3 percent year-on-year in the fourth quarter of 2010. For 2010 overall, sales in China rose 6 percent year-on-year.
"The first billion-dollar brand (Minute Maid Pulpy) we have emerged out of China. So, that gives you the signal of progress in China which we are very happy about," he said.
Minute Maid Pulpy - an orange juice drink - was introduced in China in 2005, and it reached $1 billion in global retail sales in five years, becoming the company's first brand developed and launched in an emerging market to reach that sales figure. The brand is now among the premier juice drink brands in more than 15 countries and regions, including Indonesia, the Philippines, Thailand and India.
Julian Chang, executive director of the Ash Center at Harvard Kennedy School, thinks the company's strength has been its willingness to be sensitive to local market needs.
"As a company, they can move quickly to respond to local conditions - look at the success of Minute Maid Pulpy in China," Chang said.
China's soft drinks market has maintained double-digit growth for more than 10 years. However, some experts predict growth may slow down in the future because of increasing market saturation.
John Farrell, vice-president of strategic planning at Coca-Cola, however, is positive about the Chinese market.
Annual per capita consumption of Coca-Cola drinks in China was the equivalent of 34 eight-ounce bottles in 2010, said Farrell, adding that it still has room for growth.
From 2006 to 2010, sales of soft drinks in China, including soda, juice and bottled water, almost doubled to 270 billion yuan ($42 billion), according to Euromonitor International, a market research firm.
At the end of the year, Coca-Cola had 17 percent of market share while Tianjin-based food producer and distributor Tingyi Holding Corp had 13 percent. Hangzhou-based food and beverages firm Wahaha had 7 percent, while PepsiCo Inc was fourth with 6 percent.
"Fifteen years ago, foreign brands were really all there were but now Chinese companies are competing head to head against foreign brands," said Shaun Rein, managing director of China Market Research Group in Shanghai.
Wang Laoji - an herbal tea drink from Guangzhou Pharmaceutical Holdings Ltd, which produces traditional Chinese medicines and health drinks - is dubbed the "Chinese Coke" and is gaining popularity in China.
"Foreign brands need to understand the needs of evolving Chinese consumers more and react faster to their desires," said Rein.
Farrell recognizes the competition in the Chinese market but he doesn't see it as a negative element. "The great thing about China is it has a lot of competition which helps create the industry. When you are building non-alcoholic ready-to-drink beverages, which are commercial beverages, the more competition you have, the better, as far as developing industry growth in more consumer-participated, high-quality beverages," said Farrell, one of the creators of Diet Coke.
In China, Coca-Cola has put a lot of effort into advertising and is heavily involved in China's festival celebrations such as those during the Chinese New Year. It was also the first international company to sponsor both the Beijing Olympics and Shanghai World Expo.
"I think that Coke's marketing has always been one of its strengths as well. They have the resources to put a lot into marketing. Their investment into various festivals and holidays are quite important and is part of the 'think local, act local' mantra," said Chang.