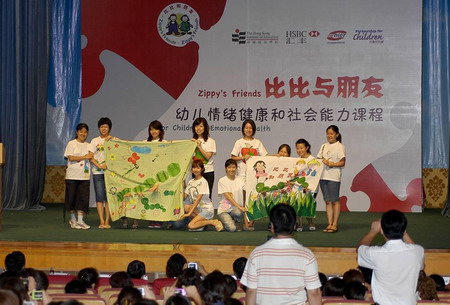 A large billboard stands in the lobby of a Beijing training organization advertising various educational programs for high school students to study at overseas universities. [Photo / China Daily]
D emand rises for classes in how to excel in the national college exam
BEIJING - With the beginning of a new semester, many education-training agencies are seeking to boost their profits by offering courses designed to better prepare students for the upcoming 2011 gaokao, or national college entrance examination, held in June.
"The college entrance examination is a very big thing for Chinese students. Parents and students alike are willing to invest as much as they can to get a good result," said Luo Ping, director of U-Can Middle School Education Center, operated by New Oriental School in Beijing.
The number of students scheduled to take the college entrance exam started to fall in 2009. It decreased from 10.5 million in 2008 to 9.46 million in 2010, according to statistics from the Ministry of Education.
However, the supplementary education market for senior high school students remains confident about its prospects.
New Oriental School is one of the top brands in English training on the Chinese mainland and it entered the area of supplementary education for middle and high schools in 2007 with the establishment of U-Can Middle School Education Center.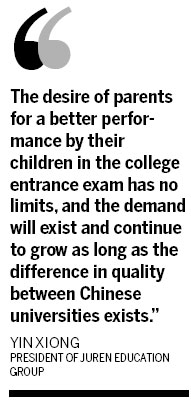 "We saw a 30 percent to 50 percent annual average growth in profits from 2007 to last year in this section," said Luo, adding that parents' growing expectations for their children's performance in the gaokao spurred a family's investment in education.
The huge demand attracted many others to the market. Global Education & Technology Co Ltd began college entrance examination training in December 2009, three years after it was established, and had provided gaokao-oriented education services to more than 300 students by the end of 2010.
The education institution offers one-to-one tutoring services as its major business. It will expand classes this year as more and more students are registering for its gaokao-oriented courses.
"We received 15 million yuan ($22.5 million) in revenues in this part of our business last year, and I expect it to increase to 30 million yuan this year," said Chen Tianfu, director of the operations department at Global Education & Technology Co Ltd.
Teachers may be the most valuable assets for a training agency because they have direct influence on the final results of students' grades in the gaokao. Generally, these teachers are from public high schools or are full-time training teachers.
Chen said that his company's more-than-200 teachers tutoring senior high school students are from various public high schools in the city, which he said was a guarantee that they could always get first-class educational materials and information about the gaokao.
"Years of experience in the field has also enabled them to better understand the exam system," he added.
At New Oriental School, one-third of its teachers are from public high schools, one-third of them are full-time professional-training teachers, and the rest are teachers it trained, most of whom are originally overseas students or graduates of prestigious universities in China.
"I have more confidence in teachers from key public high schools," said Shi Shigang, father of Shi Di, a senior student of the high school affiliated to Renmin University of China in Beijing. Shi paid 400 yuan an hour for his daughter's supplementary maths course provided by a teacher from Beijing No 4 High School.
The cost of gaokao-oriented supplementary education varies according to the types of classes chosen.
At Global Education & Technology Co Ltd, the average cost is 230 yuan an hour for a one-to-one tutoring service, rising to 350 yuan to 400 yuan for teachers from key high schools.
At Juren Education Group, one of the top private education brands in China with its focus on primary, middle and high school students' education, the average cost for a one-to-one tutoring service is between 300 yuan and 500 yuan an hour.
Juren was founded in 1994 and launched in the gaokao-oriented supplementary education sector in 2000.
"The average annual spending on a student's supplementary education for a college entrance exam surged from 2,000 to 3,000 yuan in 2000 to 15,000 yuan nowadays," said Yin Xiong, president of Juren Education Group. These training institutions all believe the market holds great promise.
Related readings:


 China's top universities to use same entrance exam


 Teen's entrance exam essay too classical for scholars


 Fewer students sit college entrance exam


 Aid to education, training
"The desire of parents for a better performance by their children in the college entrance exam has no limits, and the demand will exist and continue to grow as long as the difference in quality between Chinese universities exists," said Yin Xiong.
Although many private education organizations of all levels have now entered the market, there will be a trend toward integration, said Chen from Global Education & Technology Co Ltd.
Global Education & Technology acquired two small private education organizations at the end of 2010. One of them had been in operation for seven years.
"I think the whole market will become more mature because parents are showing a more rational attitude in making their choices," said Luo from New Oriental School.
In order to differentiate itself from competitors in the market, New Oriental School provides an assessment service for students who are considering whether to sign up for its U-Can Middle School Education Center.
The assessment system could help students better understand their abilities, so that they could select the appropriate classes for themselves. The assessment also acts as a reference for the teachers who are designated to tutor them.